While Sephora is most famous for being a long-standing luxury cosmetics brand, it's also known by marketers for how it set the standard for the OMO (online-merge-offline) cosmetics customer journey.
An early adopter of the omnichannel approach, Sephora has been combining the offline and the online customer journey into a single shopping experience — and personalizing it — for years. So what's their secret? How do they do it so well?

Image: Sephora
The roots of Sephora marketing
Sephora started out in the French town of Limoges, France. Initially named Shop 8, it famously grouped the store's products by type rather than brand, and introduced the idea of self-serve testing to the in store experience.
It worked well. It made customers try more products and stay in the store longer to browse up and down every aisle, seeing and experiencing the products first-hand.
50 years later Sephora is still putting the customer first and the brand second. And in doing so, the brand's commitments to diversity and equality in recent years have rung truer than most.

Image: Sephora
In 2022, the Sephora influence has spread far and wide. Now owned by LVMH, Sephora is in 35 countries, operating 2700 stores, with each store containing more than 300 brands.
But the weight of the influence has increased recently because nowadays everyone in ecommerce marketing is trying to get what Sephora's got.
What is Sephora's OMO strategy?
The Sephora OMO strategy is to personalize customer relationships and remove all friction between online and offline experiences. Shoppers now use their phones at home but also as they shop in stores and Sephora has tailored both its app and its stores to facilitate this new reality.
Follower brands aiming for this ideal often miss because their strategies aren't far-reaching enough and only seek to get their online customers into their offline stores — a well-known but very different strategy known as O2O (online-to-offline).
What is OMO for Sephora and how is it personalized?
For Sephora marketing teams working behind the scenes, OMO means integrating online and offline customer data insights into one profile.
Data can come from many sources but the general rule nowadays is that first-party data is increasing in value and Sephora goes out of its way to offer awesome apps that simultaneously help customer navigate the customer journey, educate the about their products and, most importantly, analyze their preferences.
Then on the shopper side marketers use the individual preference profiles to add personalized touch points to apps, email, sms, in store, etc., for a seamless online/offline shopping experience .
Living customer data insights
Sephora uses progressive profiling (preference profiles that build over time) so they always have updated first-party data they can use to personalize customer experiences.
Predictive preference analytics enable Sephora to know what customers want so they can make unique, 1-to-1 recommendations (that perfect pink, or just the right red) as they browse virtual cosmetics counters.
Unique and seamless offline and online CX
The real trick though is that Sephora has been able to consistently apply their unique customer experiences for every customer, whether at the store, on the mobile app or at home on the website.
Getting in early on OMO was key for Sephora but the secret to scaling it and keeping it going long term has been automating their efforts with AI and machine learning.
A strong brand loyalty program
Sephora builds brand loyalty the right way, one customer at a time. They send email promotions to every customer that signs up to become a subscriber, but each message is personalized to call out the recipient's loyalty tier, attribute-level product preferences and more.
Loyalty program points build up and customers can use them to make donations to charities supported by Sephora.
Five takeaways from Sephora's OMO marketing strategy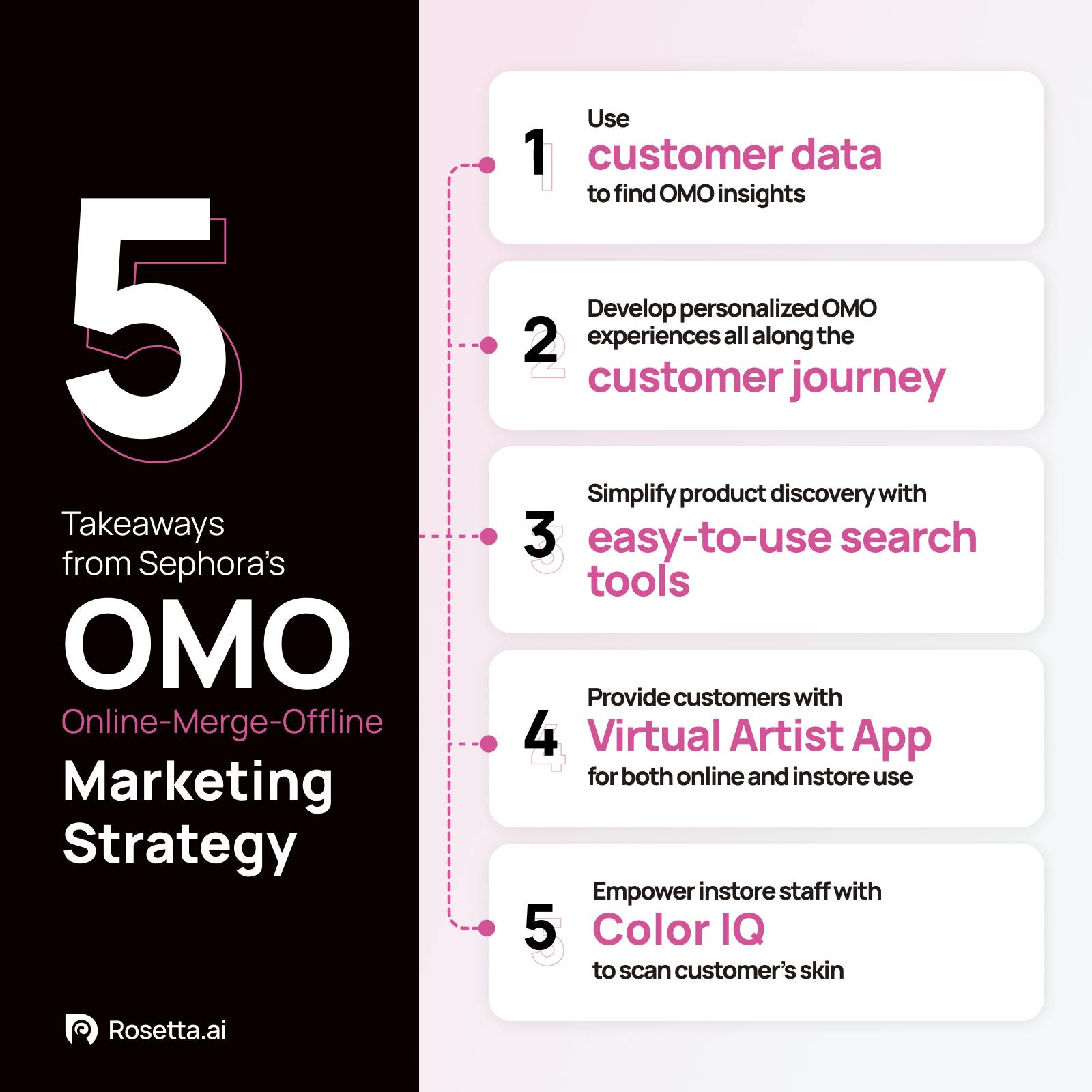 1. Their marketing team uses customer data to find OMO insights.
Like any top ecommerce brand the Sephora marketing team is rigorous when it comes to analyzing data and measuring it. Using Google Analytics 360, they improve ROAS by identifying which online advertising drives more in store purchases.

Video: Think With Google

2. Sephora develops customer-centric OMO experiences all along the customer journey.
From the layout of the retail store to how store sales associates use tablets loaded with tutorials to engage customers, to the functionality of the app, to progressive profiling and personalized recommendations, everything is based on the customer.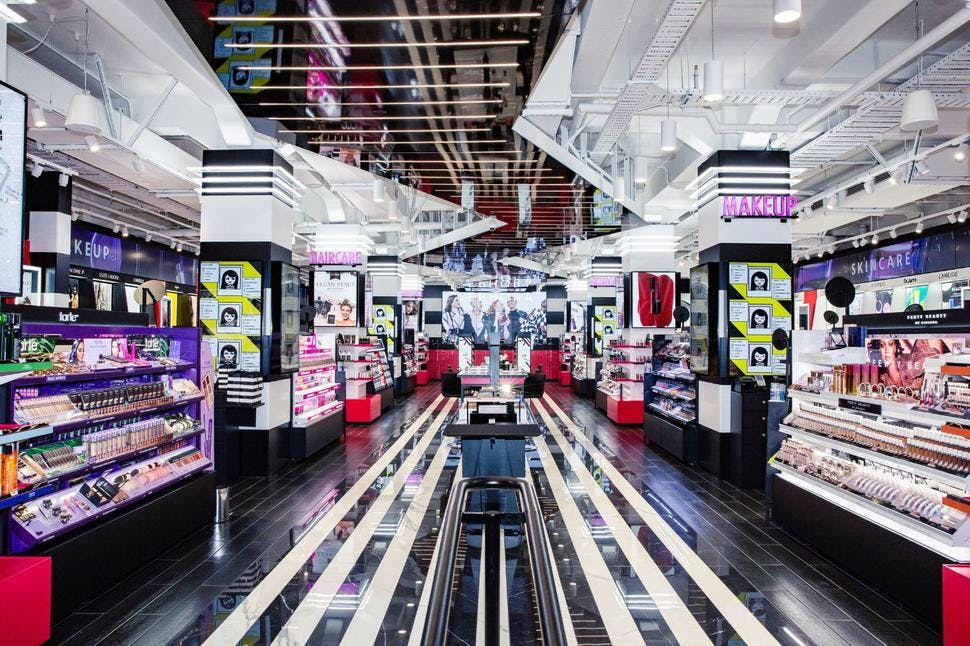 Image: Sephora

3. Sephora simplifies product discovery with easy-to-use search tools that help shoppers navigate in unique ways.
Shopping for skincare can be complicated because there are so many options and when given so much choice many shoppers churn, but not at Sephora. The site has apps designed to make finding products an enjoyable experience with tools like the Complexion Routine Builder and the Foundation Finder.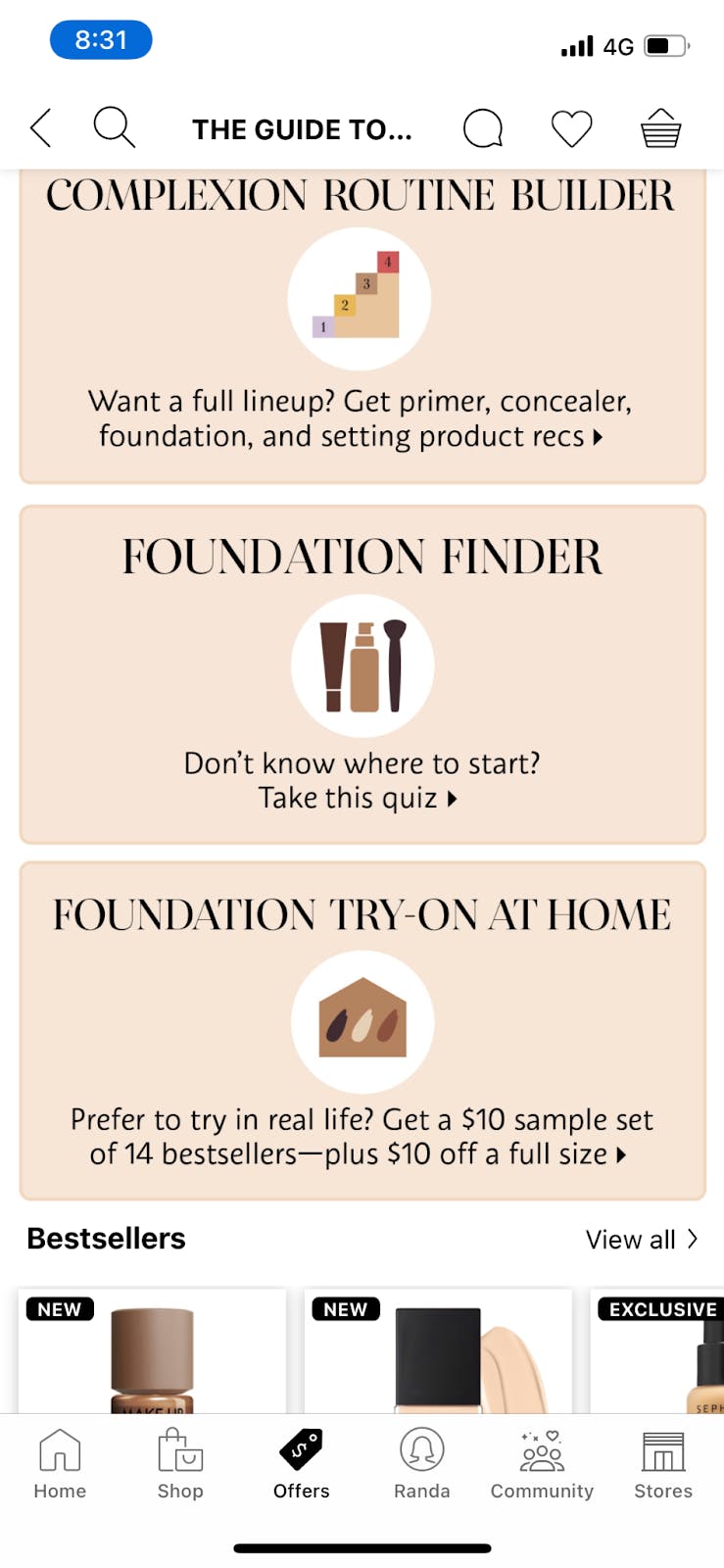 Image: Sephora

4. No matter where Sephora's shoppers are, the Sephora Virtual Artist app gives customers a helpful central hub.
Filled with an accessible fusion of beauty, skincare, and cosmetics and all the related tools for making smart shopping decisions, the goal of the mobile app is to give customers a familiar place for their shopping experiences whether in-store or online.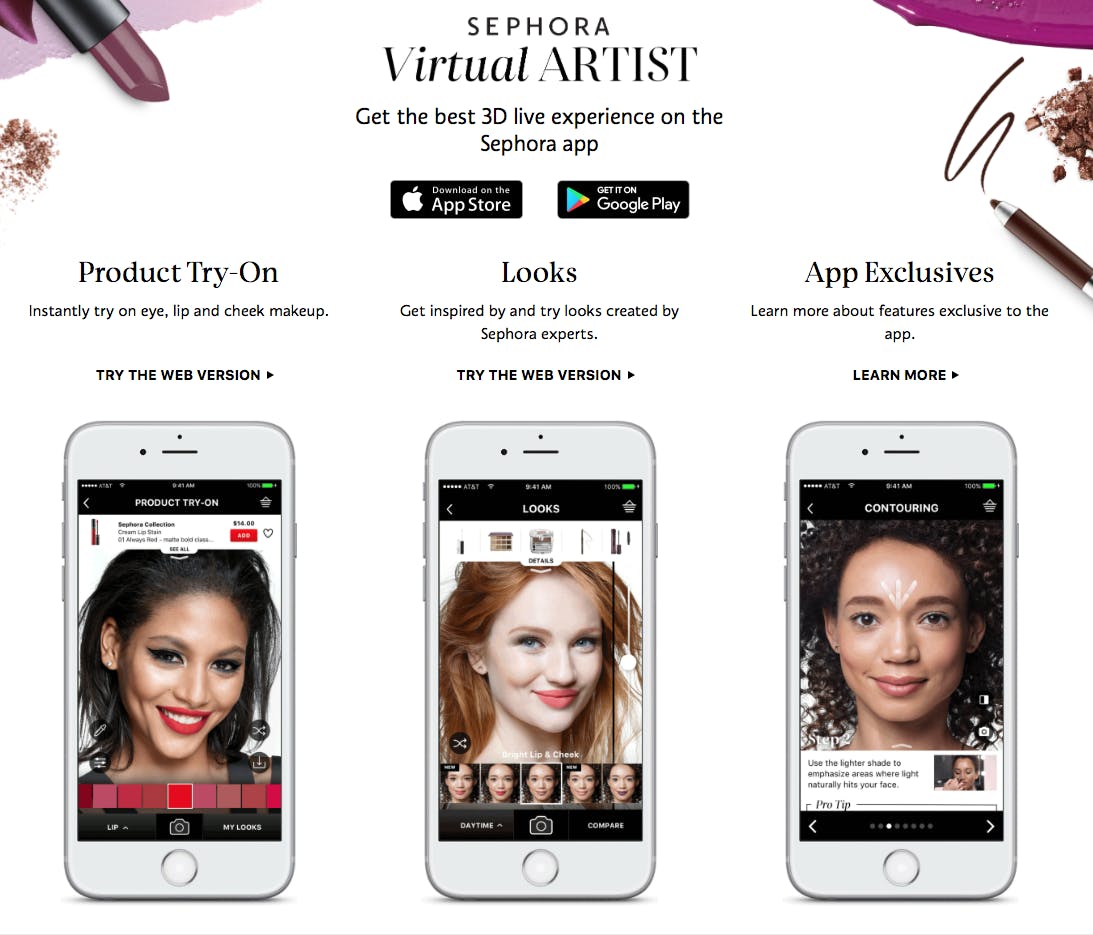 Image: Sephora

5. Sephora offline store staff use Color IQ to scan customer's skin and build the customer's online profile
The Color IQ machine ensures the instore experience is personalized with the "perfect shade" for the shopper's skin type but scanning the shopper's skin also builds their online profile, giving Sephora that much more data for that particular customer and ensuring even more personalized experiences in the future.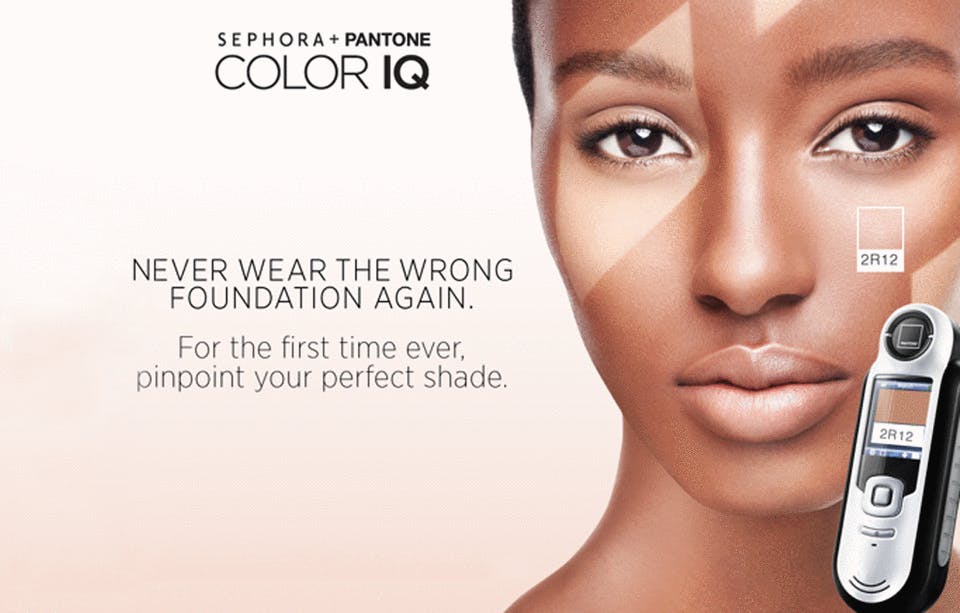 Image: Sephora

Final thoughts
While Sephora puts a lot of time and effort into making apps that educate its customers about its products, it can also be said that Sephora learns as much as it can about its customers. Customer-centricity is in the DNA of Sephora. Since its early days it strived to make shopping experiences customers love.
In more recent years though the emphasis has shifted from putting the customer first to actually building strong personalized relationships with customers and making connections with customers all along the customer journey that make them feel like they belong. AI and ML have provided the means to automate progressive profiling, product recommendations and large scale customer retention.
Their tactics are clear and in the omnichannel world of 2022 and beyond, we can see that the Sephora OMO strategy sets the standard for ecommerce merchants everywhere. The lead by example, showing us that to personalize customer journeys a brand must focus on the fundamentals including generating living customer data insights, a unique and seamless online and offline customer experience and a strong brand loyalty program.