Online traffic doesn't get any heavier than during the BFCM (Black Friday Cyber Monday) long weekend, which begins this year on Friday, November 25.
Fashion ecommerce is especially busy, with 55% of shoppers planning to buy clothing, shoes and leather goods.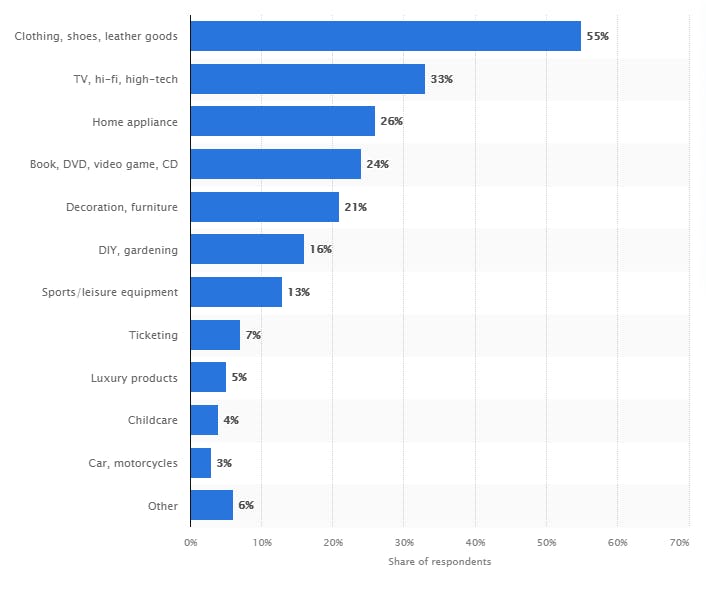 Statistics via/ Statista.com
For SMB merchants looking for a quick fix that pays off in the long run too, the Rosetta AI Personalization Platform has been shown to 2x conversions an 3x AOV.
All the power, none of the coding
Behind the scenes, AI gets results on ecommerce websites because of super smart algorithms and heaps of coding but these days those things are all out of sight and out of mind for merchants. Apps plug in to your website in minutes, at affordable monthly rates, and require zero coding experience.
So how can AI help apparel merchants during BFCM?
Personalizing your website's marketing with AI is like having a sales person with great intuition on your site at all times. You open the door to 1-to-1 customer experiences on your site, just like you get on big marketplace sites like Amazon or Shopee.
The AI gains insights into what consumers want, in real time. It analyzes preferences as shoppers browse and then recommends and promotes the right thing at the right time, which boosts your conversion optimization (usually over 2x).
The AI is optimized for fashion and beauty and employs computer vision to view what customers see as they browse your website. This preference data is combined with shopper data (transactional, browsing behavior), and personalized preference profiles get created. These profiles personalize the customer experience, via tools designed to keep shoppers on your site longer, buying more.
With these tools plugged in to your site, you end up converting more shoppers into buyers because you...
Engage shoppers with perfectly timed promotions, and...
Cross-sell more products with 1-to-1 personalized product recommendations.
Using AI-driven exit-intent promotions to engage hesitant shoppers
If you have exit-intent promotion popups running on your site you can tempt shoppers with personalized offers when they begin to make moves to leave, and the timing will be just right.
The AI notes browsing behavior and figures out the best time to show your promotion. For example, when a shopper on your site scrolls down your product details page, or if she jumps between PDPs it often means it's almost time to leave. As these actions occur, the AI automatically deploys exit-intent popups that make discount offers on products that match the shopper's preferences.
The longer the visitor stays and clicks around your site, the more timely the offer will be. And for shoppers who return to your site, especially your VIPs who have purchased from you, the timing and the offers will be even more effective.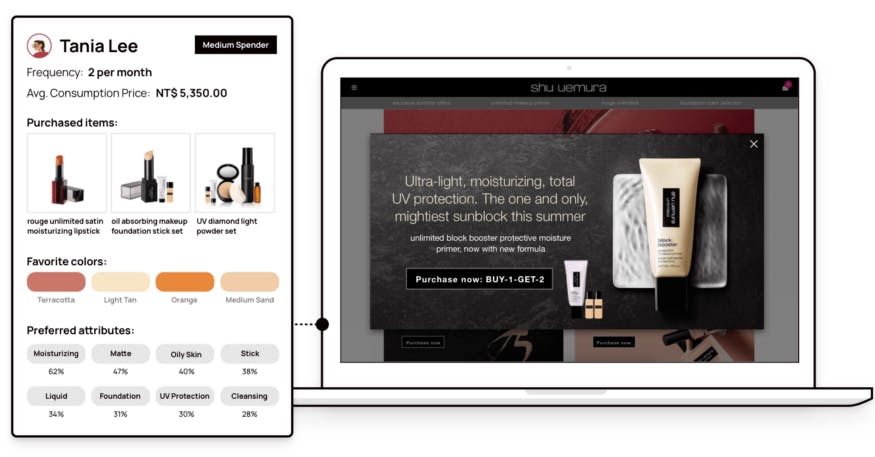 Rosetta AI client, Shu Uemura, uses this tool to present promotion popups that match the shopper's favorite colors and transaction history.
Cross selling with personalized product recommendations
Preference profiles with detailed, attribute-level product tags plus customer data can be used to make recommendations on any page of your website, increasing your chances on cross-sells.
Browsing behavior is monitored and site visitors end up seeing recommendations that match their preference profile. Recommendations for returning visitors are even more on point.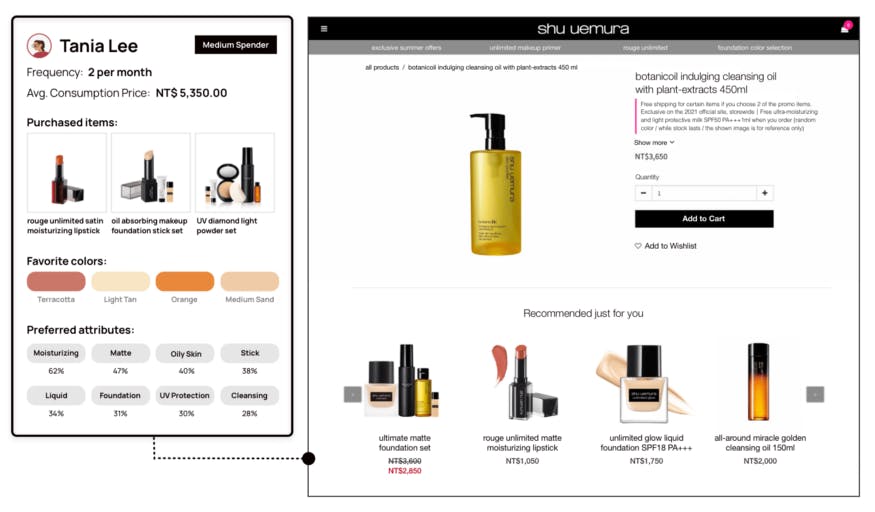 This combined product/customer data is a powerful thing. Using it to engage customers personally has been shown to boost AOV and get 5x ROI.
From the moment a shopper arrives on your landing page, personalized recommendations can be set to engage customers. Product page recommendations are especially effective, having been shown to increase sales by as much as 51%.
How to get these tools on your site for free
Rosetta AI offers a 30-day free trial of its Starter Plan, which includes Personalized Product Recommenders. If you want to run the AI-driven promotion tool as well you can sign up for the Growth Plan free trial.
You can onboard yourself in a matter of minutes or schedule a call with Sales Lead, Hermione Tsai, to walk you through the process.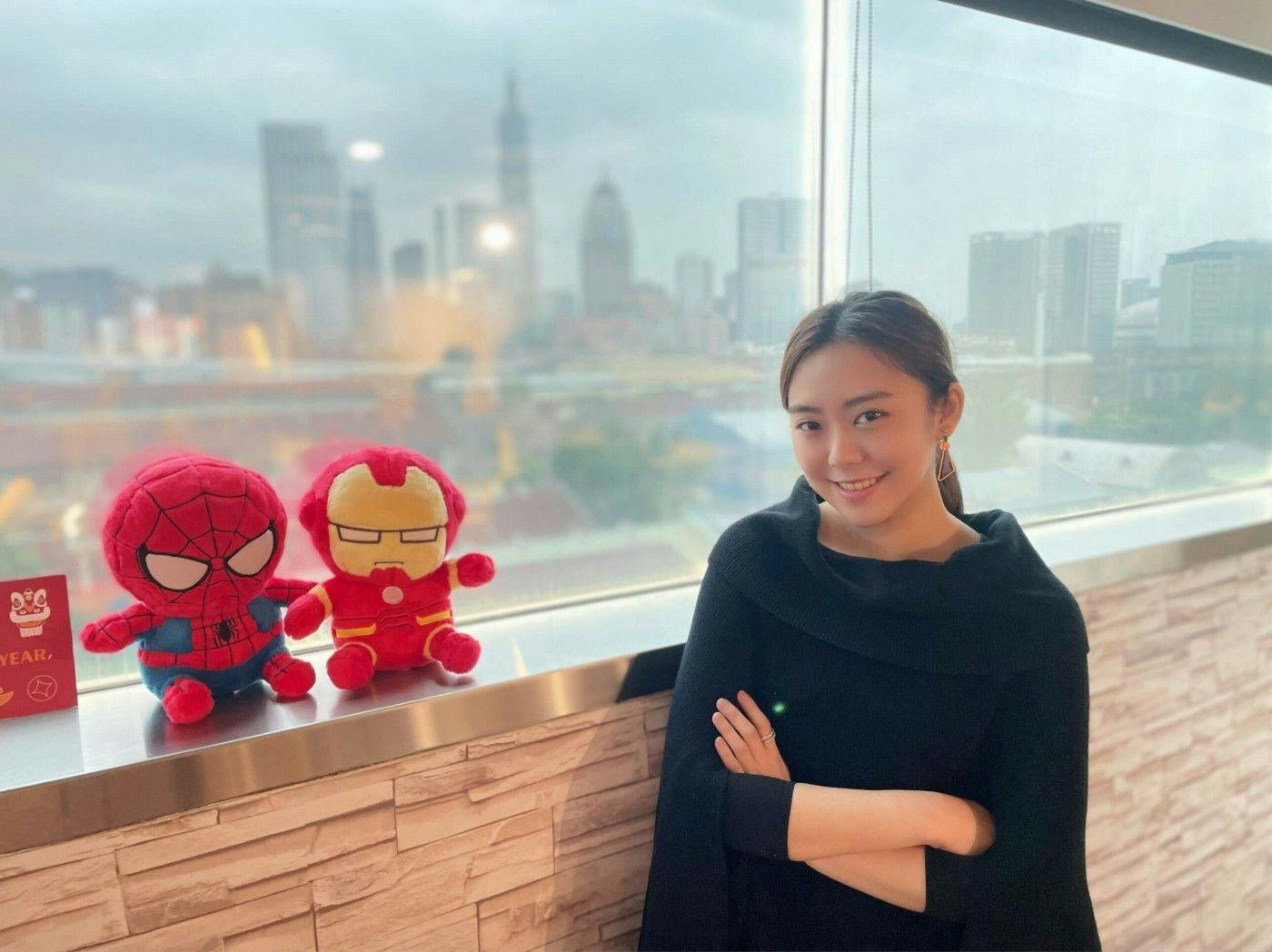 She'll show you how to connect your product feed and your Google Tag Manager and you'll be ready to set up your first recommender faster than greased lighting.
Final thoughts
Black Friday ecommerce competition is intense and getting the best tools to handle the job can help a lot to make your website perform better in the clutch. When traffic gets heavy, a good marketing website can engage customers as individuals, making the experience interesting and comfortable and guiding them along a satisfying customer journey. This is the customer experience standard that heavy shoppers expect now, upgrade your site today!