Customer retention is a relatively obvious win-win [and is now well-established] in sectors like food and gas retail. You buy your flat white or fuel at the same place every morning, you easily accumulate red stamps.
But reward and retention are a trickier sell in fashion, where consumer outlay and loyalty are less predictable. Sure, department stores have successfully incorporated loyalty cards into their CR initiatives, but – as well as clothes and cosmetics – they trade on food, houseware, and electric goods to boost your net spend.
Fashion communities for the future
Forward-thinking fashion brands have focused more on creating inclusive communities as a selling point and/or have pushed the sustainability/inclusivity envelope to up their value. Still, nobody [unless you're a sneaker collector] buys a lot of kit from the same source a lot of the time.
But that's changing; the current fashion landscape makes loyalty a better deal for both customers and retailers. Here's how retention marketing breaks down for a few of the more popular verticals.
Fast fashion
Fast fashion has stimulated a much quicker turnaround on fashion purchases: the reason Uniqlo and H&M are successful is that they get the latest looks in their [virtual/actual] windows quickly, at prices that makes seasonal [and inter-seasonal] shopping a possibility for millennials. Reward and membership schemes fit this model.
Athleisure
The athleisure sector has also led the charge with capsule collections, limited editions and luxury brand collaborations that present tempting upgrades on standard fare for those with the right access.
Sportswear
Sportswear brands like Nike have long utilized big sports' existing community/event model to bring their merch [via club sponsorship and star endorsements] into the equation. Now fashion brands have inverted the concept by creating community/events around the physical product. It's a tenuous link that depends on brands continually being connected to movements in the arts and sports, but it's selling.
Customer retention in fashion is evolving
Looking ahead we might expect a future of product upgrades on a lease-type system, replacing traditional ownership models. How about [for the discerning gold card member] a trade-in for a new pair of Jordans every April or denim through your door that matches Paris trends?
For now, here are fifteen of the more interesting customer retention offers from brands you probably know.
Nike
Starting with the sportswear marketing godfather is a little on-the-nose, but it's worth pointing out that [running] community connectedness was at the heart of Phil Knight's mission from day one and has now been adopted wholeheartedly in sports retail. Nike membership, via the app gets you:
Access to the latest items
Nike-by-You customization options, offers and promos as well as access to events and videos
Training plans via the Nike app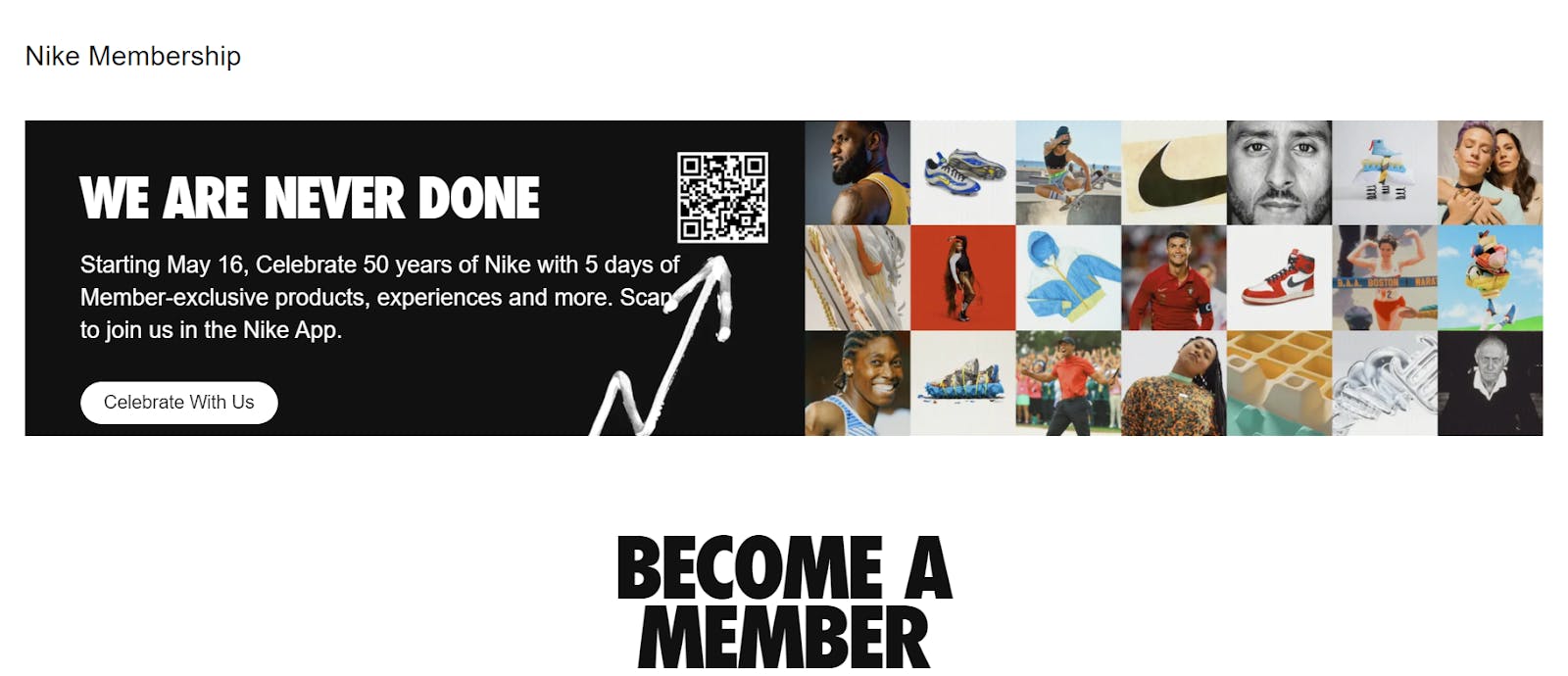 Adidas
Another app-driven retention strategy born out of the pandemic, which allowed its mobile division to engage with, better understand, and reward its demographic in ways the times uniquely provided.
Adidas focused, not only on the way Covid19 changed the way we shop, but also on the fact that the experiences and desires of consumers could be pooled to create visions of the way forward.
Perks and connectedness for first adopters extend exponentially through app-driven membership that is responsive to individual tastes. Adiclub gets you [on an escalating points system]:
Members only products
Rewards such as vouchers, discounts, and free shipping
Premium Sports app to manage your training and learn from others
Special access to VIP events and meet and greets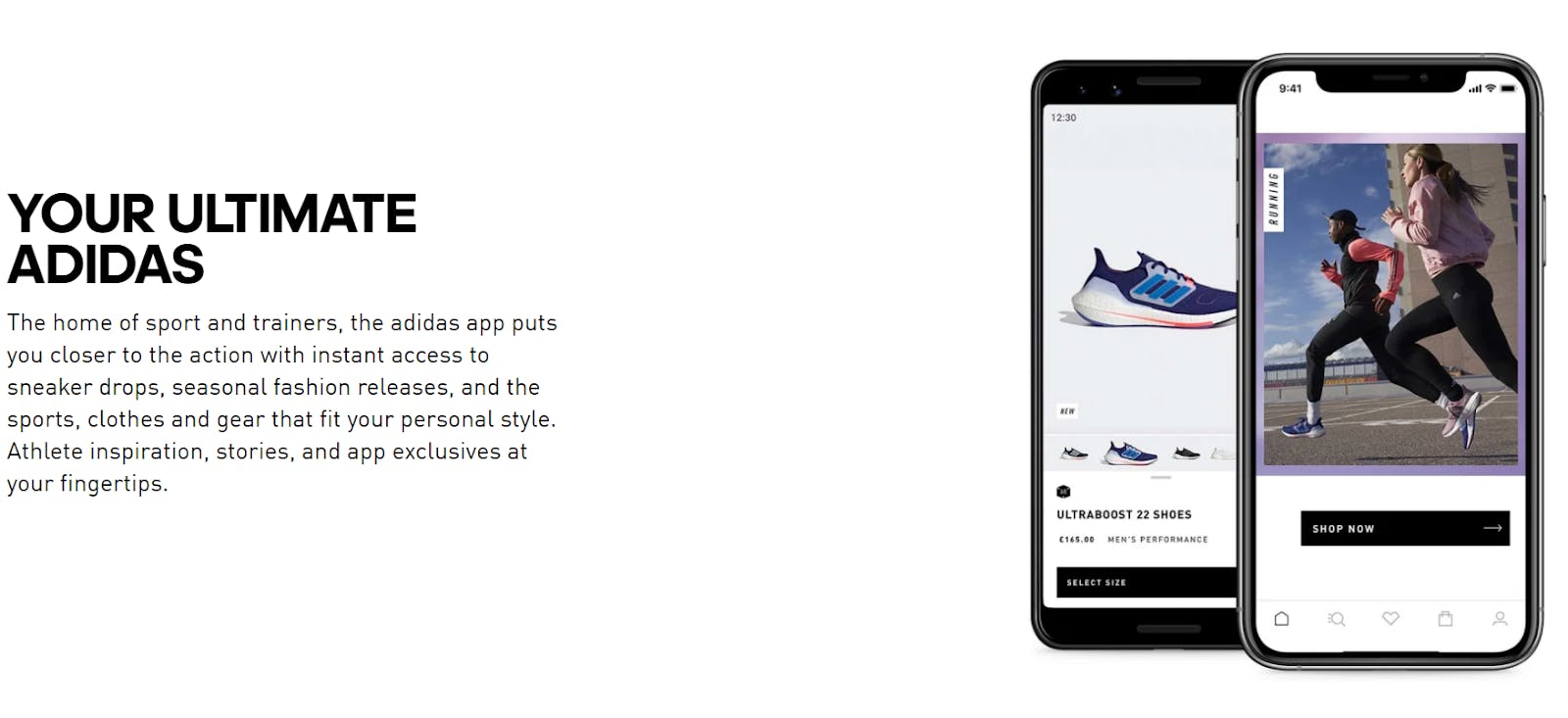 Lululemon
This body-positive yoga and training brand has done much to advance the inter-pandemic fitness mandate that has revolutionized yoga exercise. It has evolved its apparel and equipment division into a community and sport-focused brand for all, foregoing VIP or gold access premiums in favour of:
Standard email alerts on events and promos
A tie-in with UK Pandemic darling Jo Wicks
Training events and common-sense advice on working out that segues into products and online exclusives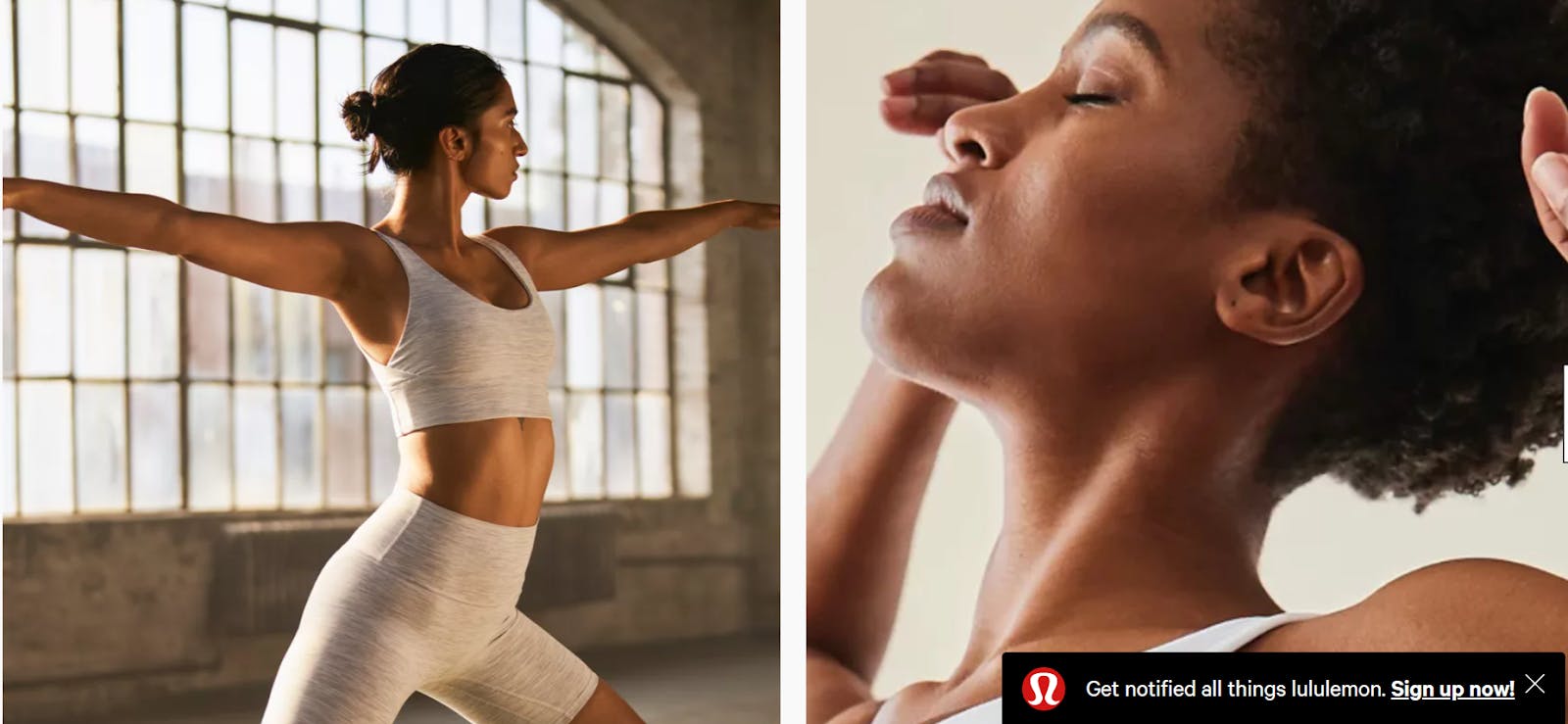 Uniqlo
Japanese heavyweight Uniqlo aligns Zen-like simplicity and lifestyle focus with high concept customer retention activities. Its Wakeup lifestyle app may not have sounded quite the right note worldwide, but now, by subscribing to the standard app [with a monetary incentive for first time users], customers get:
A decent blog with lifestyle advice linked to Uniqlo products.
News on collabs with hot designers and arts-based events
Just arrived product updates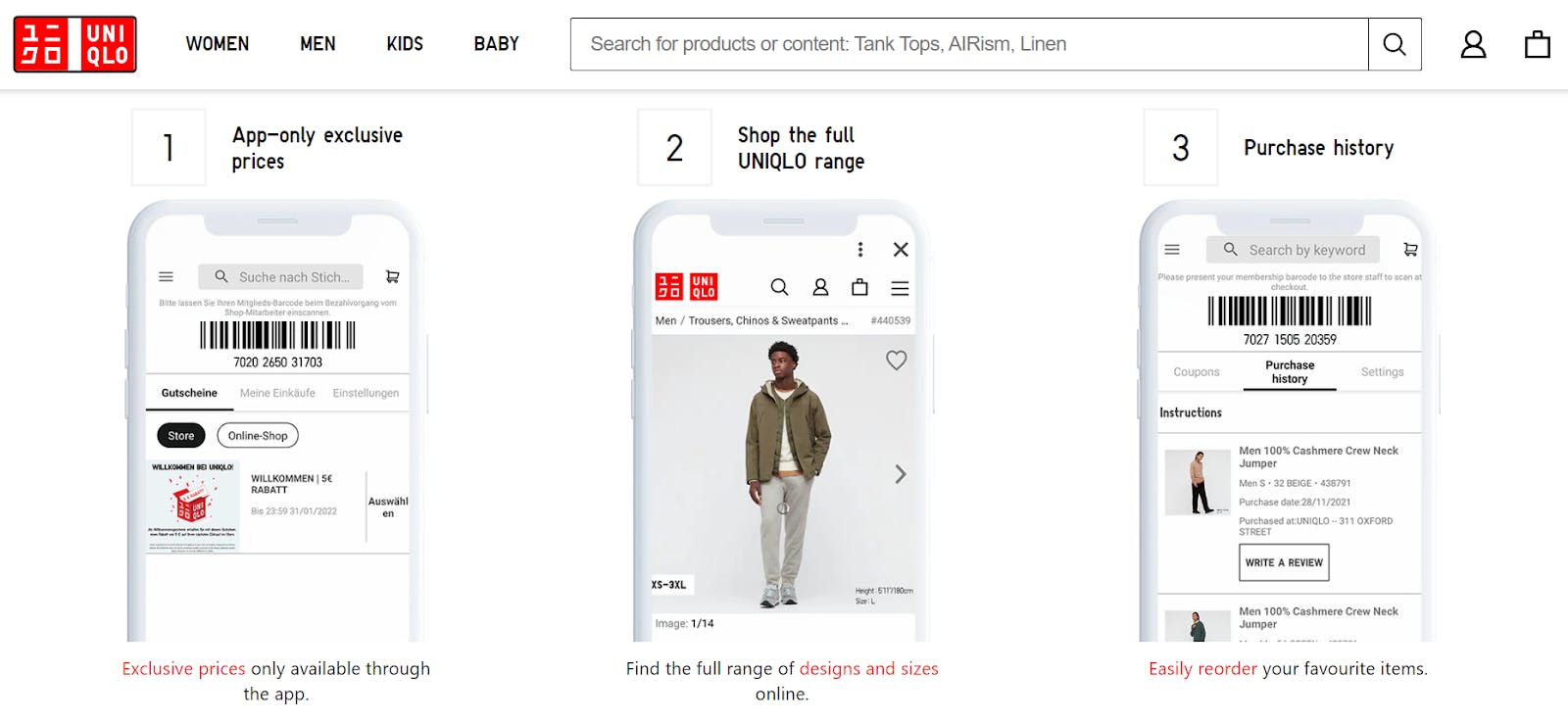 Michael Kors
Few brands command the middle ground of premium retail like Michael Kors, and while quality [Saffiano leather, anyone?] is a key component in the brand's success, it's the eponymous owner's handle on retail's online evolution [that works well for accessories and bags] that is the key. Inclusivity and community are somewhat anathema to the Kors image, instead, KORSVIP membership in the US provides:
An annual members gift
A birthday reward
Free standard shipping and returns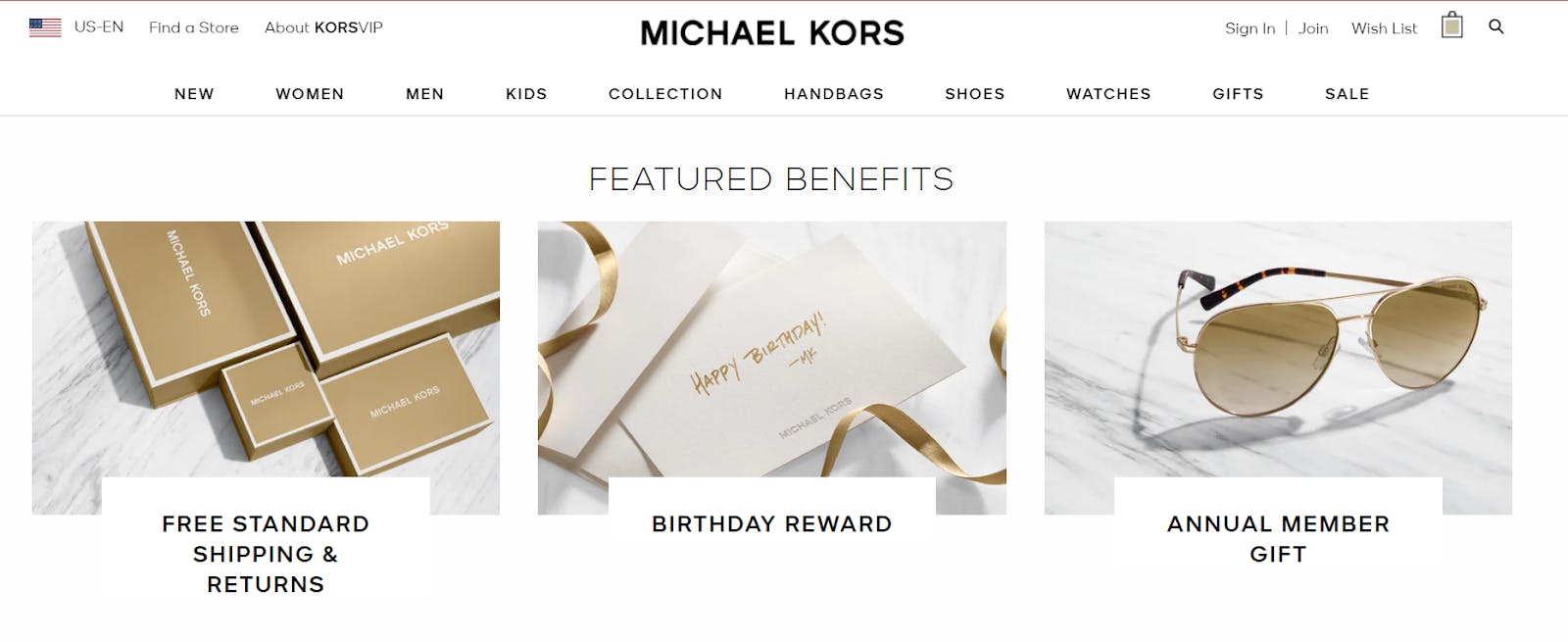 Levi's
With community focus [via their website] on the arts, sustainability, alternative sports, and a West Coast lifestyle vibe, Levi's also pushes hard on collaborations and tie-ins with creatives, as well as refocusing and repurposing that 501 template that got the whole product-led marketing strategy rolling before even Jordan was in Nikes.
The Levi's app is the best way to keep up to date with all this creativity and to bag discounts. 10% off and free shipping for email subscribers is standard, while Levi's 247 in the UK or Red Tab in the US gets you:
Free Shipping
Early access to promos and events
Redeemable coins for each purchase
Early access to promos and events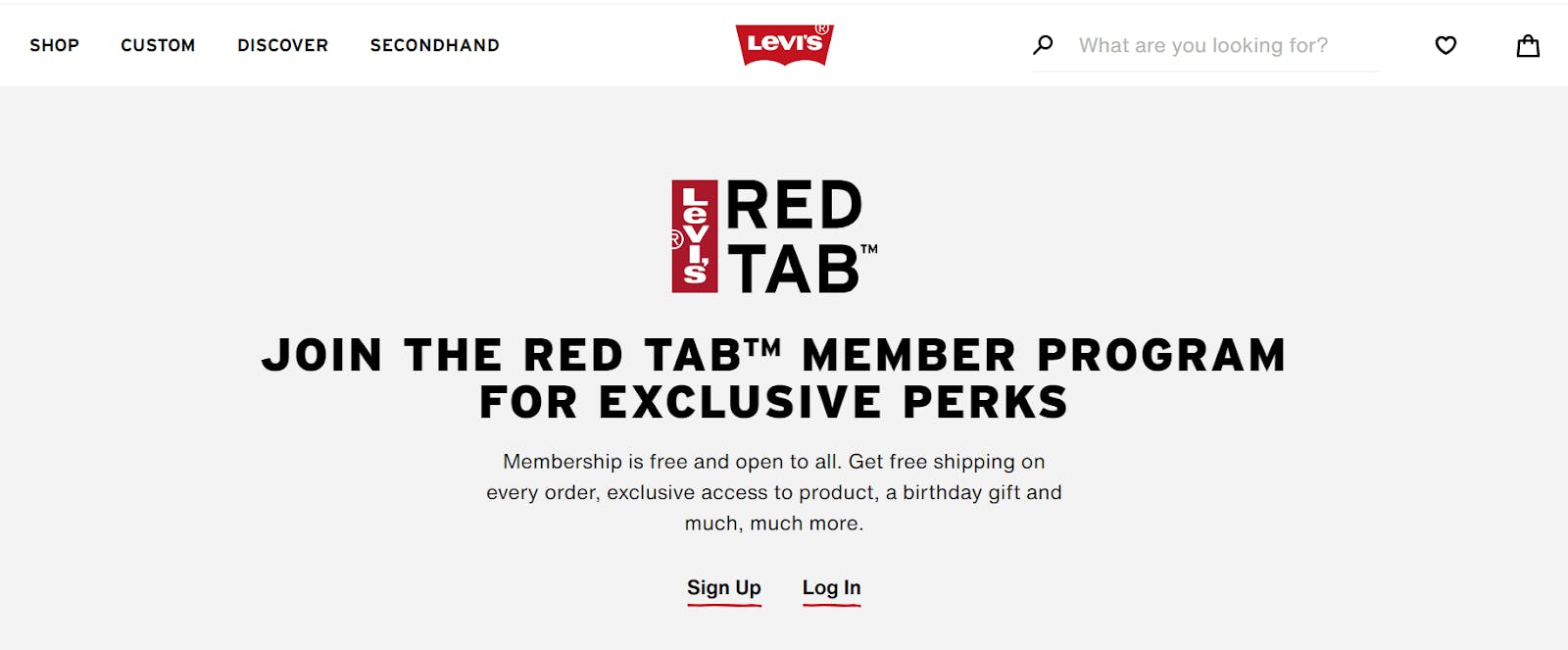 Calvin Klein
The 90s darling of premium branded clothing [and softly whispered perfume names]. Newsletter subscription gets you online exclusives, and its preferred loyalty program offers discounts and rewards for every dollar spent.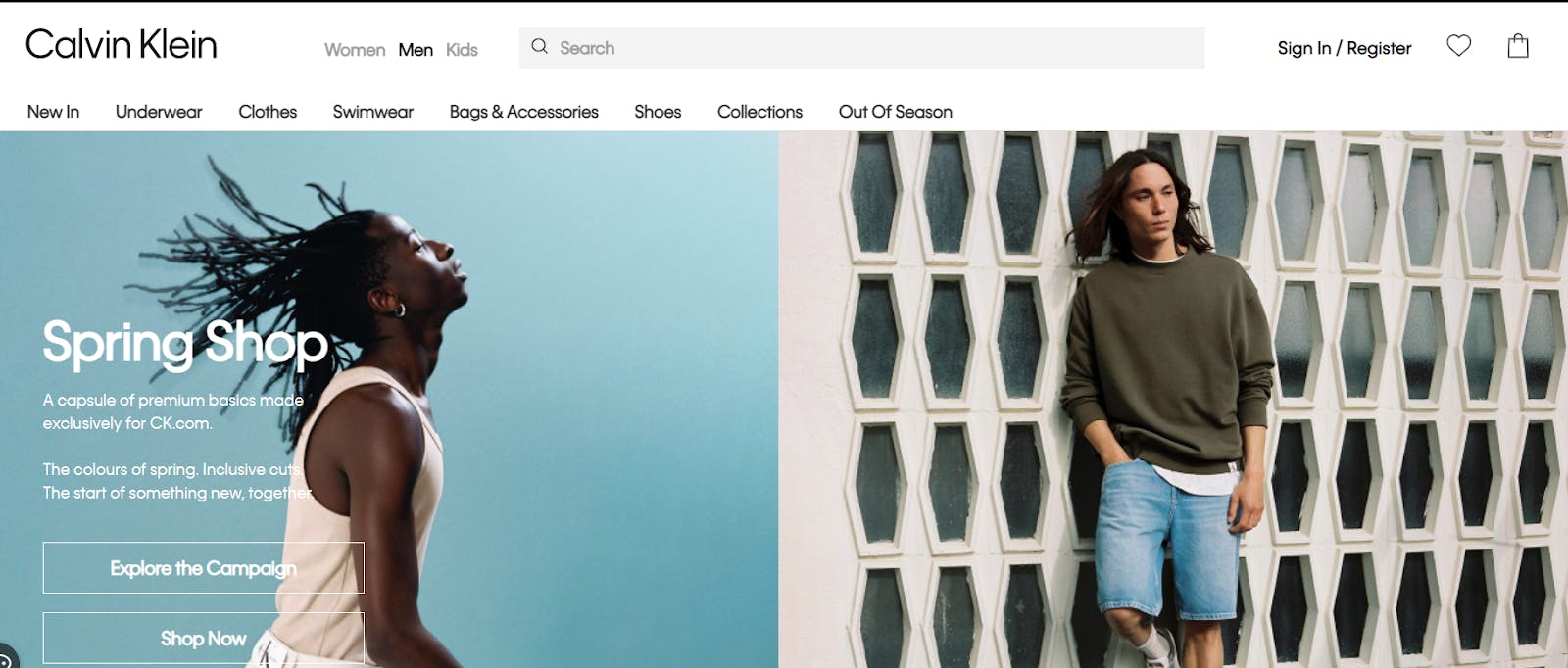 H&M
The Swedish fast-fashion behemoth launched its own loyalty program, rewarding customers with discounts and reward points earned from each purchase. The focus is on graduated rewards for high volume/low-cost spending.
Customers earn 1 point for 1 dollar of purchase.
A 10% discount welcome gift for each newly registered member with other exclusive offers and discounts.
Free-shipping, birthday gifts and other surprises.
H&M provides additional offers to an extra tier of members with 500 points.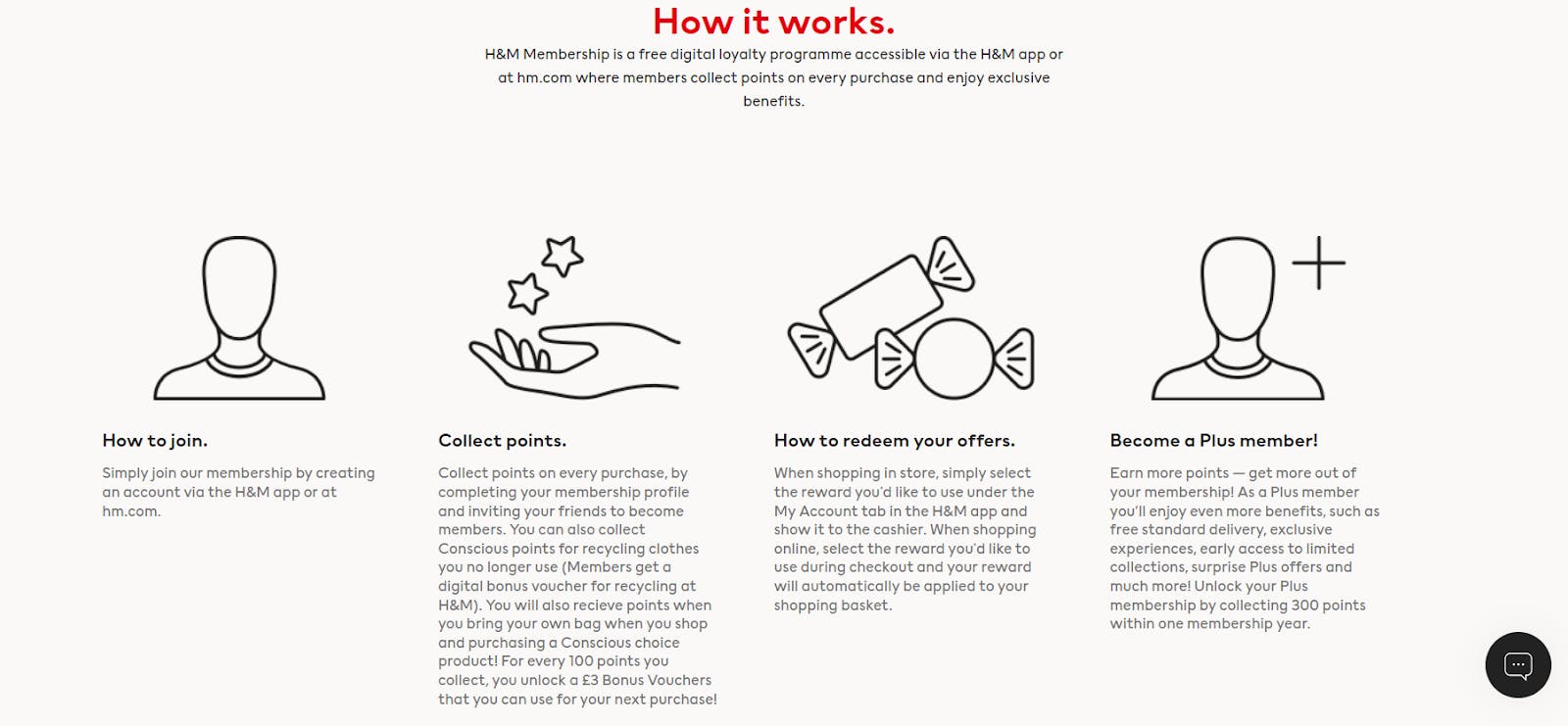 Pretty Little Thing
Maybe the UK-based fast fashion retailer doesn't think sex is the only things that sells after all. The brand run on high volume affordables designed to punch for their skimpy life at the club or beach bar; it's Royalty scheme pitches at around a buck a month for girls who – basically – can't make up their minds but are happy to keep trying:
Next day delivery
Unlimited Deliveries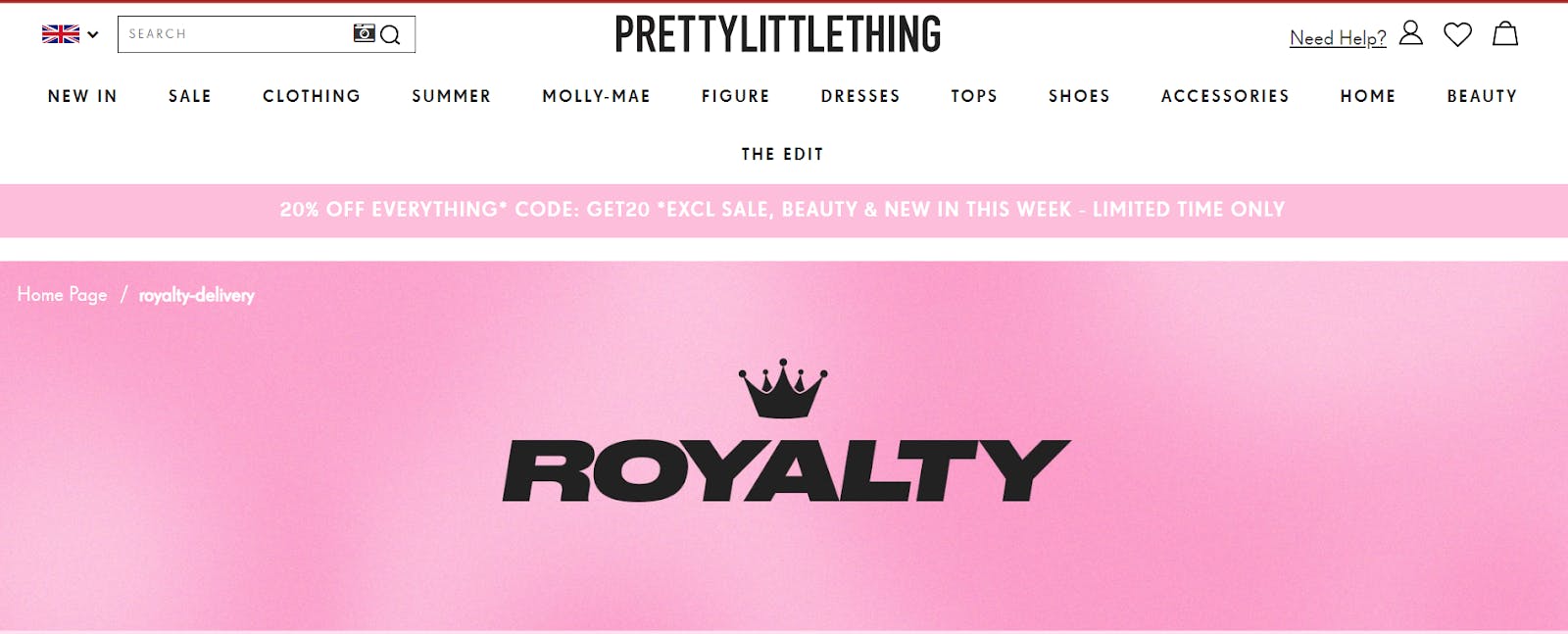 Sephora
The French multinational cosmetics and skin care retailer [owned by LMVH] trades on hundreds of renowned brands at friendly prices as well as its own collection of beauty care products at a bargain. Its Beauty Insider Program offers:
Three tiers of membership dependent on expenditure: Insider, Very Important Beauty Insider (VIB) and Rogue, determined by the amount of money spent on merchandise yearly.
Varied benefits, generally including free shipments, reward points to redeem products, birthday gifts and special offers.
exclusive events and access to the Beauty Insider Community

Swarovski
Exclusivity is the enticing offer of membership to premium and luxury brands' reward programs. The Swarovski Crystal Society (SCS) and the Swarovski Club, open the [padded leather] door to:
Annual gifts and free standard shipping.
Special experience and exclusive events opened only to SCS members.
Access to exclusive products.
Different tiers of membership and the benefits of the Swarovski Club.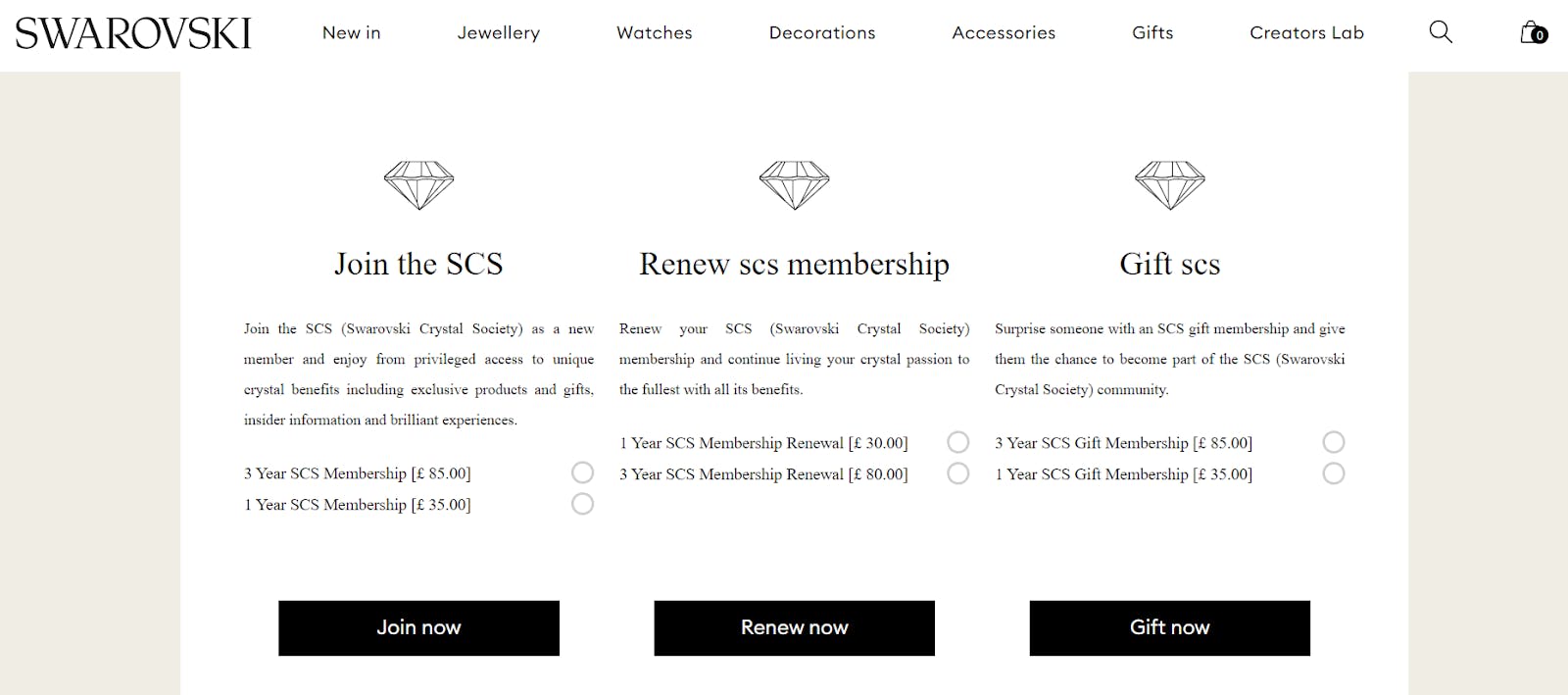 The Body Shop
This loyalty program rewards customers with not only personal benefits but also the chance to give something back. The Love Your Body reward scheme fulfills late founder Anita Roddick's altruistic mission to donate reward points to charity. Don't worry, you can spend them on yourself too!
Gucci
Contrary to perceived wisdom, luxury brands like Gucci lead the way [and have always invested heavily] in customer retention, with the best websites and in store exclusives for loyal highfliers. The brand's My Gucci experience offers:
Exclusive early access
Exclusive content [videos, games, podcasts] via the Gucci app
Curation-making capability of products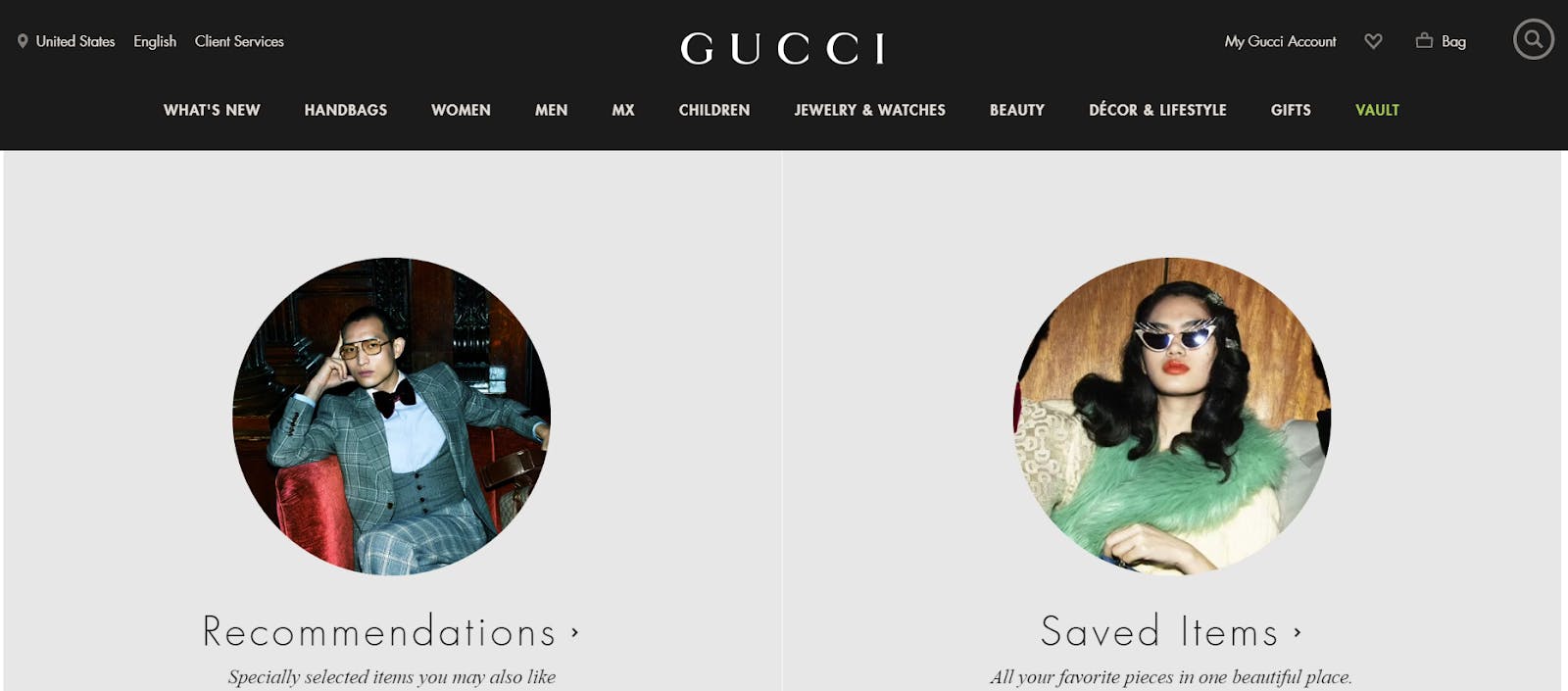 The North Face
The American outdoor apparel company offers a slightly different take on loyalty owing to a customer base whose expenditure may not be season/conventional, and who are buying for utility and practicality. The free XPLR Pass gets you:
10% off when you spend over £100
A special birthday gift
Early access to products
Member only contests and events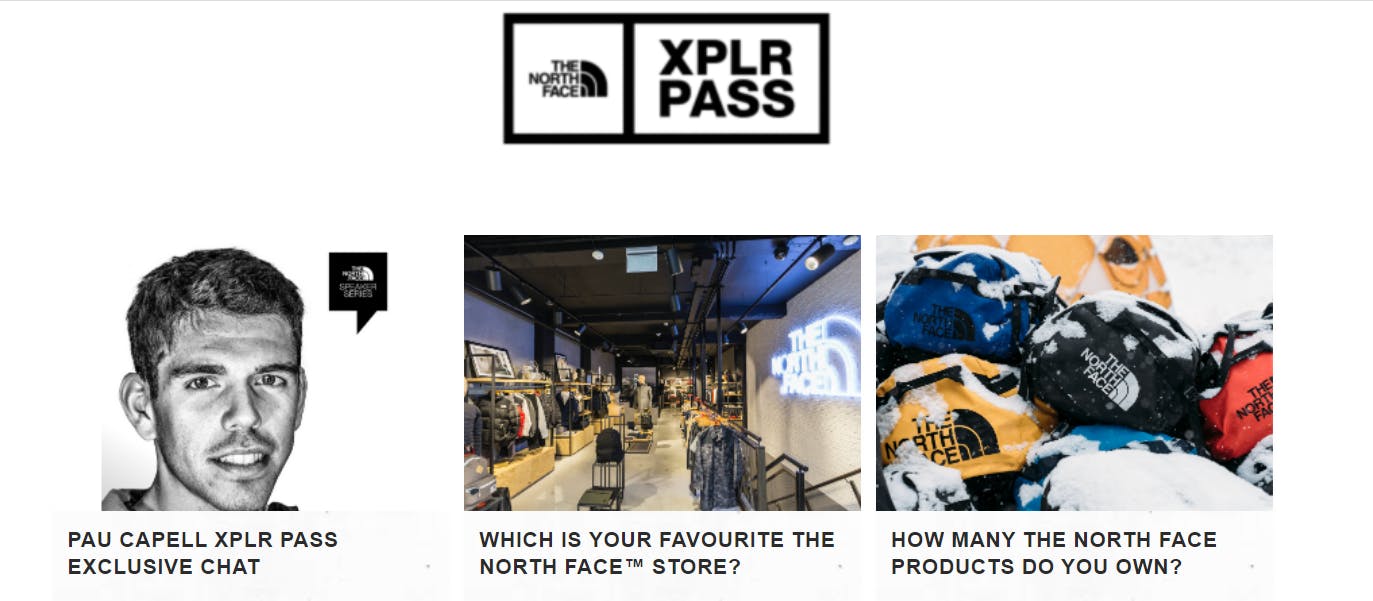 Victoria's Secret
The American Lingerie retailer has perhaps the most coveted proposition in its three-tiered credit card system offering a complex array of points, rewards, discounts and offers. Without it, you're still entitled to:
Free store delivery
Next day delivery
Free returns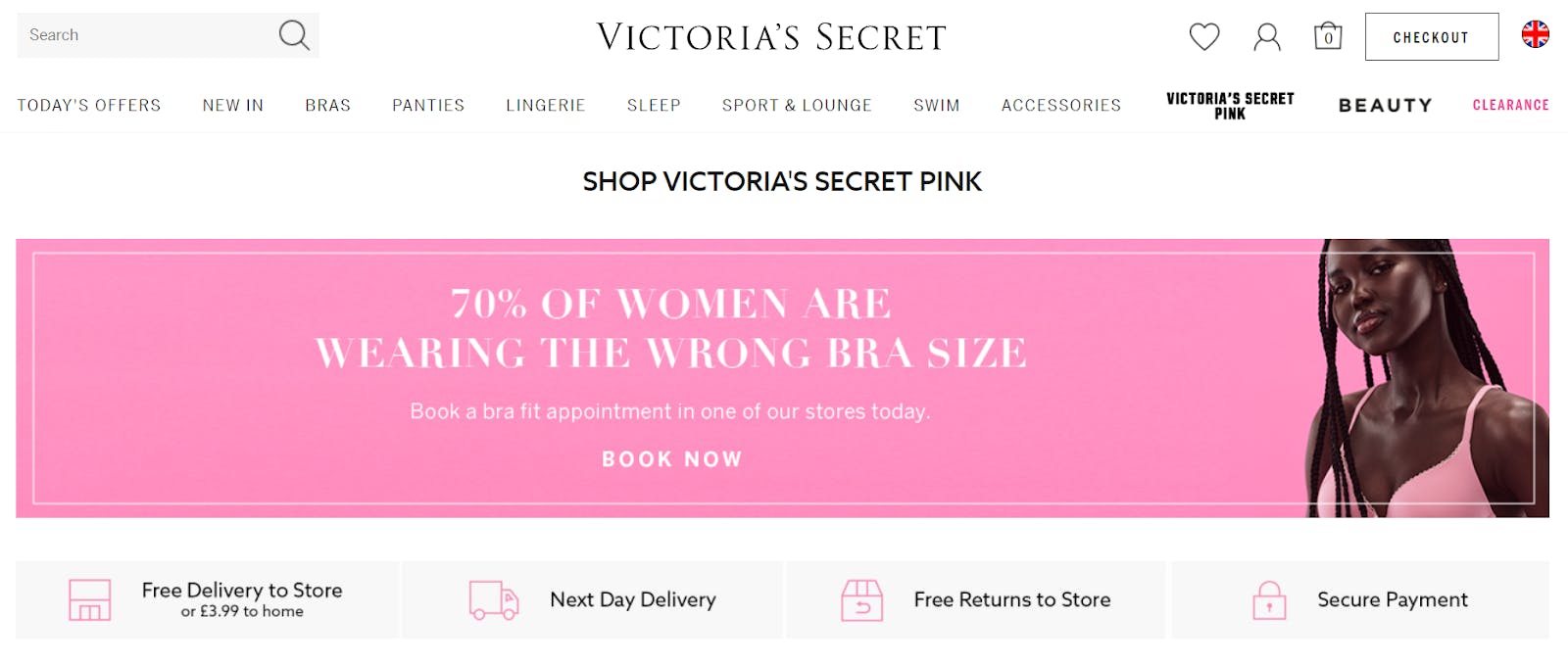 Final thoughts
At the heart of these brands' membership and loyalty schemes is the desire to keep and increase their customer base. In 2022 customers want digital convenience but also exclusivity and to be understood by brands, listened to and even talked to. Brands that can do this – via personalized marketing, convenience, rewards, and a strong set of values are the ones that sell their stock. But in fashion and beauty, it's a highly competitive game with ever shifting markers.