When it comes to fashion ecommerce and especially product page design, there's plenty to learn in Korea. Live streaming and social commerce create traffic and sales, but at the end of the line, the branded website's product page remains an essential driver and K-fashion web designers are masters of it.
K-pop and K-fashion
K-Pop exploded into being when censorship in pre-1990s South Korea loosened and rappers Seo Taiji and Boys became famous. 30 years later, K-Pop has transcended world music, art and especially fashion. K-Pop/K-Fashion icons, Black Pink sell out areas and appear on the cover of Elle.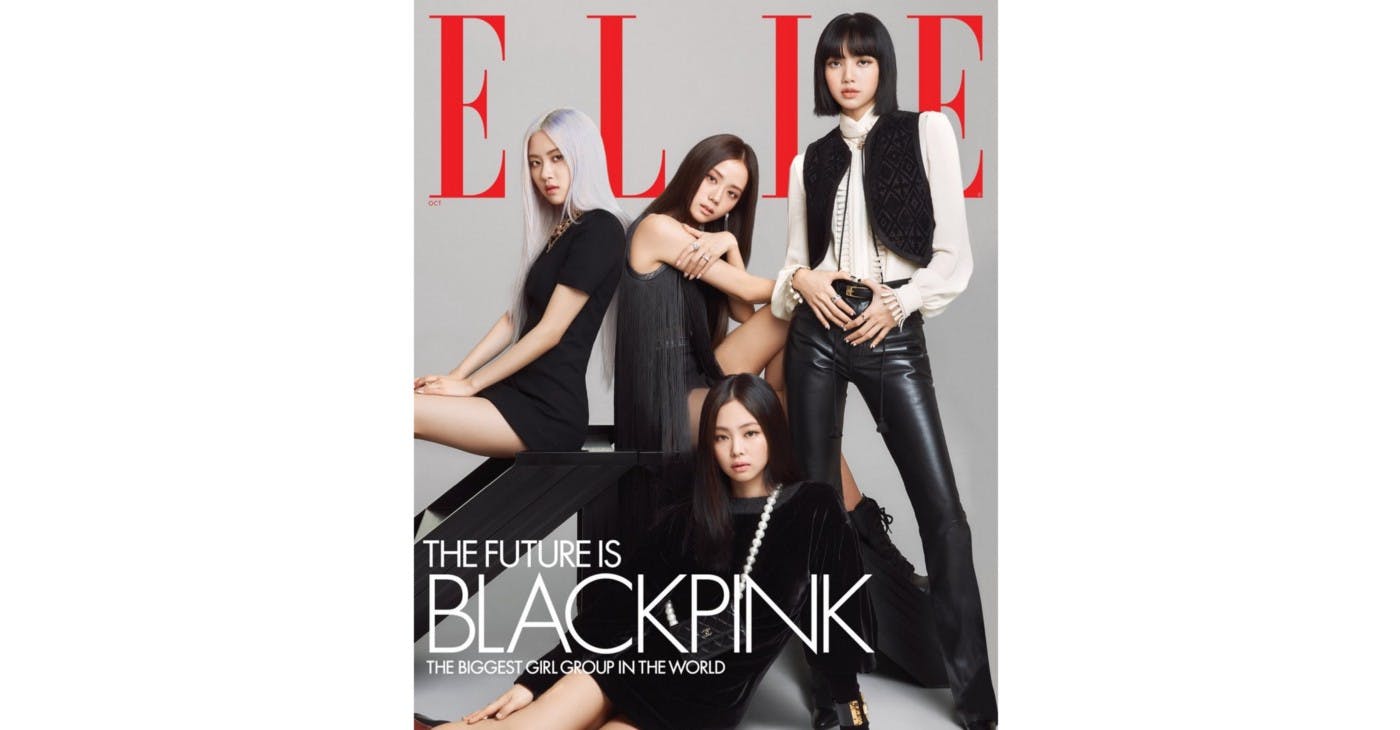 K-Fashion is now a juggernaut influencing not only streetwear but high-end luxury as well. The passion is real and the competition fuels big business. Even Samsung has a fashion brand!
From design to marketing to ecommerce, Korean fashion brands are extremely thoughtful about what they do and fully committed. Read on as we explore cross-selling tactics on product detail pages of 10 big K-fashion sites.
Cross-selling on product pages
On the top K-fashion sites, a PDP (product detail page) often features top models and high-quality product photography presenting an endless amount of eye-candy for fashion hungry shoppers to scroll through.
The usual fashion ecommerce website best practices abide:
Inviting CTAs
Highly-detailed sizing chart with augmented reality
Well-defined availability
Plenty of positive reviews
Passionately written descriptions
Clear shipping costs and return information
But on many a Korean product detail page it's all about the cross sells made with product recommendations. All sites have them in some way, shape or form.
Technique and wording vary but they all serve the same essential function: to increase average order value.
What follows are short intros to each of these wide-ranging Korean brands and then a description of each cross-sell method.
(1)CHUU
CHUU promises "to make the dream of being 25 forever a reality," with apparel and accessories that are cute, lively, sexy and expressive. The CHUU website product pages feature Korea's most noticeable models and impressive emotional marketing to their forever-young female demographic.
The CHUU product pages showcase are super easy to read with high-quality images, short product descriptions, product availability and simple color/size selection. The model wears CHUU clothes and accessories from head to toe and the PDP cross sells all of it on the Related Products recommendation component.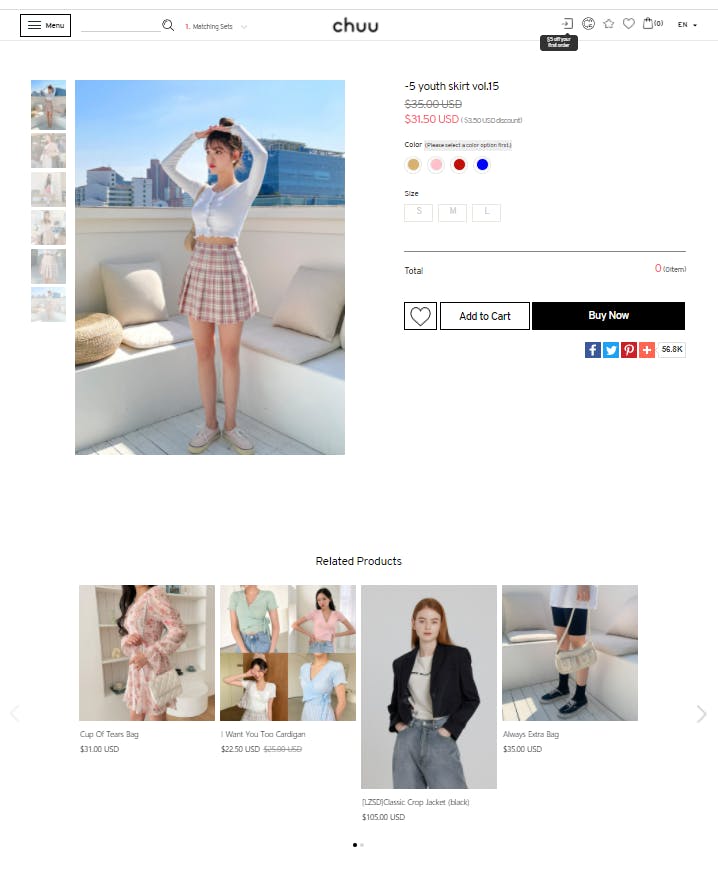 Along with the -5 Youth Skirt Vol. 15, the CHUU PDP cross-sells Related Products such as the Cup Of Tears Bag and the I Want You Too Cardigan.
(2) The MUSINSA STORE/MAGAZINE product pages
MUSINSA STORE is a streetwear/luxury brand ecommerce platform, magazine and community providing shoppers with real time micro-influencer curation and storytelling about the brands they sell. Shoppers can engage and interact with the brands and with each other, making MUSINSA extremely in touch with customer preferences.
The MUSINSA website is crowded with information, a common style in Asia for good reasons. It has two cross-selling strategies on it's product detail page. First, when you click zoom on the product images, the enlarged version has a scrollable collection featuring similar product.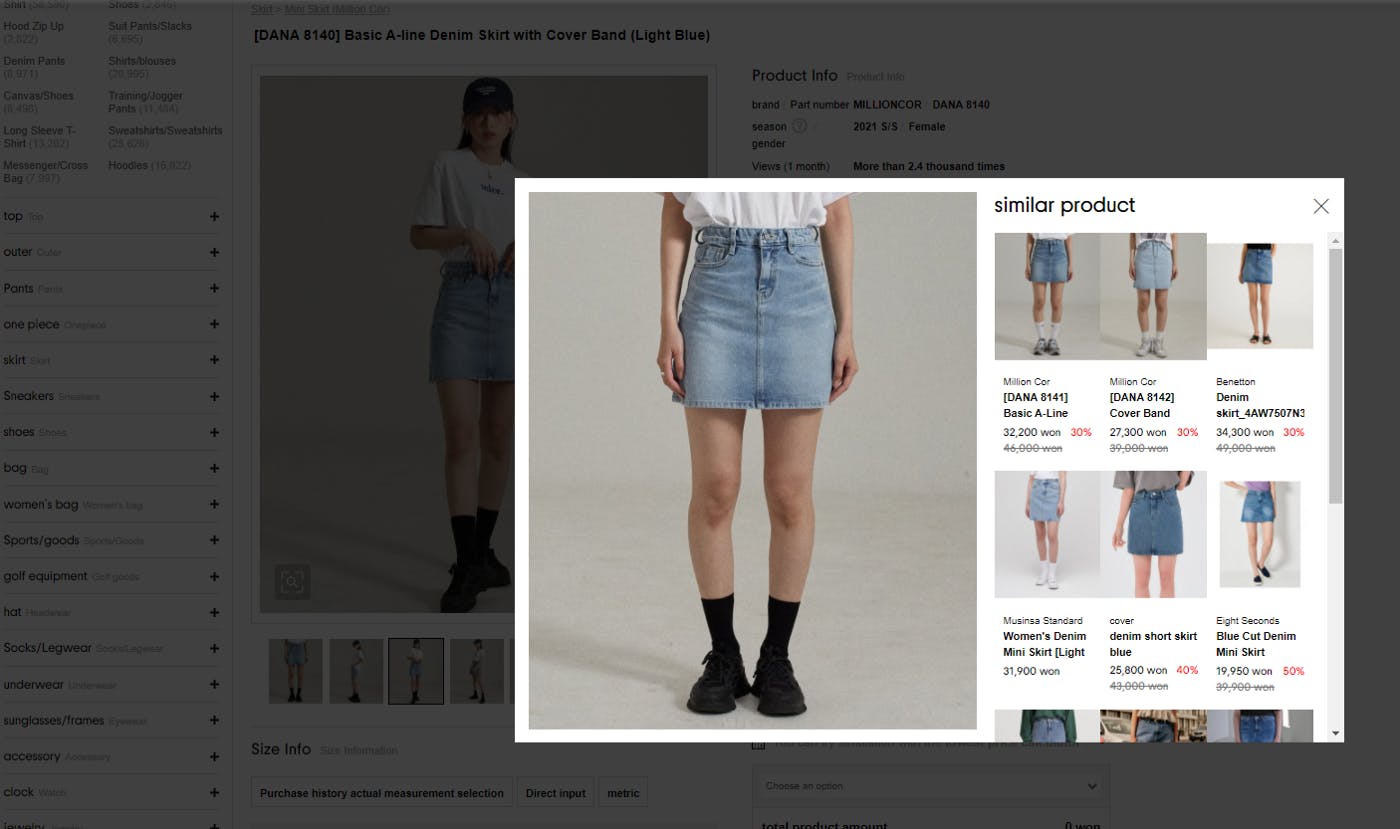 CHUU presents a pop-up when you zoom in on the product images that simultaneously recommends similar products to it's target audience.
Next, just below, a fully accessorised outfit coordinated by professional stylists is offered to tempt potential customers to buy more while they're considering the original item.
The professionally coordinated look (A.K.A. "cody") for the denim skirt.
(3) The DINT product pages
DINT (Double Income No Time) provides luxurious styles for the Full-Time-Chic, including head-turning looks for the office. Online shopping is tailored for maximum pleasure with serious attention paid to a top-quality browsing experience. DINT prides itself on staying ahead of ever-changing fashion trends and providing site visitors and excellent ecommerce CX as well.
Like CHUU, DINT cross sells the other items worn by the model in the product detail page hero image, calling the recommendation component, Relation Item. But DINT takes it a step further, embedding a product videos as well.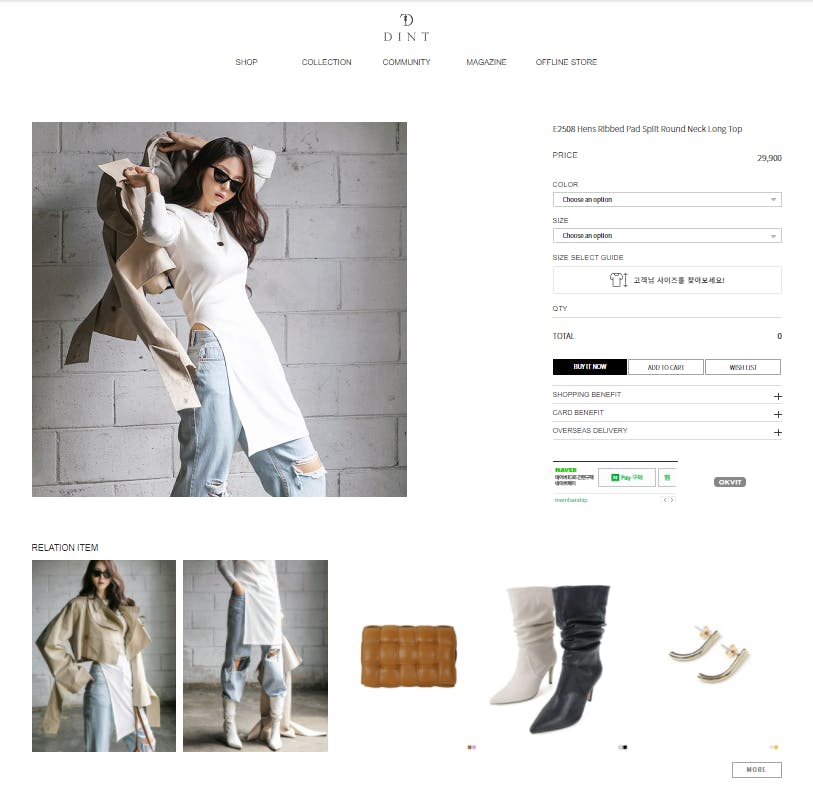 (4) CODIBOOK product pages
CODIBOOK is a multi-brand K-fashion site with a 700000-strong online community. Members coordinate complete looks (clothing, shoes, bag, accessories, for example) and share product details about them on the site to inspire other members as they shop. Everyone is shopping and coordinating outfits, enjoying the process and actually being rewarded with discounts for their best efforts.
CODIBOOK has two main cross-selling techniques on their product landing pages. First is the promo-code discount offer, themed on the page below as Have a great summer vacation.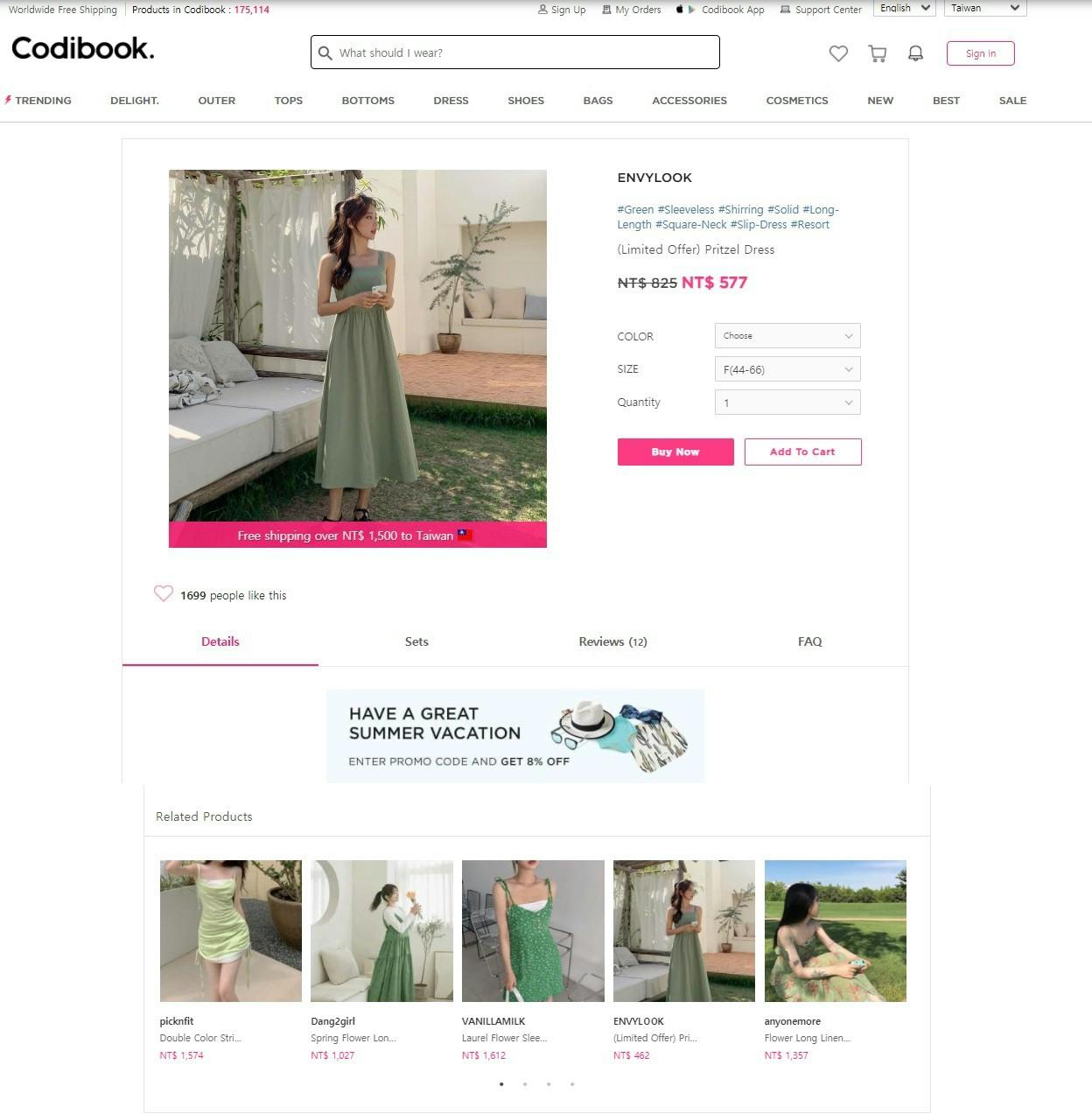 CODIBOOK cross-sells with a discount promotion and a Related Products recommendation on their product page.
The second one is the Related Products recommendation component. Note here though that suggested products are not accessories, but rather other products based on shared attributes like color, neckline, material, etc. This is a one-to-one personalized recommendation based on real time browsing behavior and AI-generated product attributes.
(5) MIXXMIX product pages
Founded in 2009, MIXXMIX is the brainchild of Minseok Bang, a passionate Korean interested in artistic pursuits including writing, painting music and video production and vintage clothing. Aptly named, the company DNA is a mix of past, present, future, art, music and some of Korea's most creative fashion brands.
MIXXMIX opts for a different cross-selling tactic, appealing to the influence of what's trending with the recommendation, Customers who bought this also bought these other items below.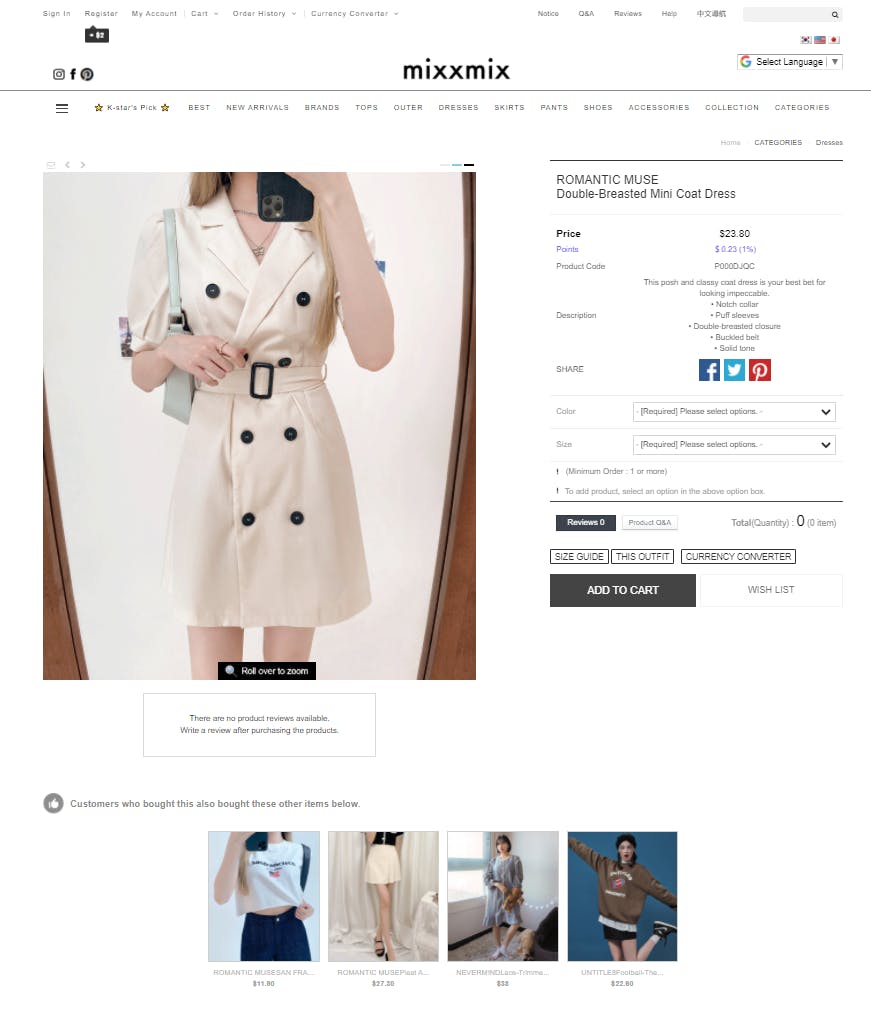 The MIXXMIX PDP with its Customers who bought this also bought these items below recommendation.
(6) STYLEUPK product pages
STYLEUPK delivers casual, everyday streetwear for men and women, guaranteeing "100% quality K-fashion." With a large selection of brands to choose from STYLEUPK reminds shoppers to shop once with them and save on international shipping fees.
SYTLEUPK goes with the box-of-chocolates approach to their product page recommendations, with random items recommended in a You may also like component.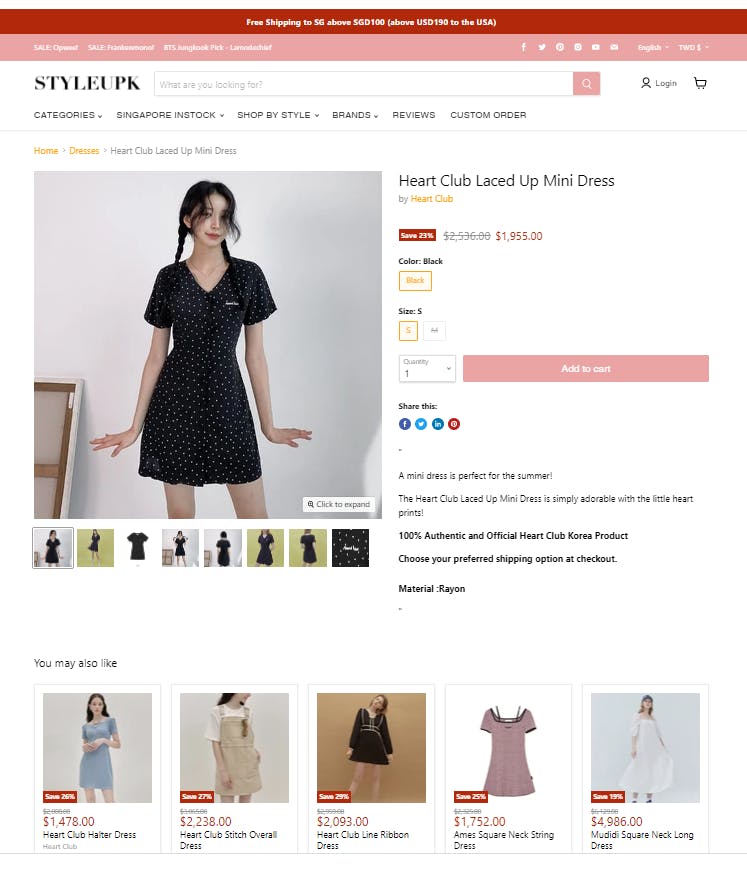 STYLEUPK recommendations are random, you never know what you're going to get.
(7) SSFSHOP product pages
SSF… Samsung Fashion? Yes. Powered by SFI (Samsung Fashion Institute) and SDN (Samsung Design Net), the global tech giant is invested in Korean Fashion. They analyze trends and do exhaustive consumer research to produce a multitude of brands that reinvent themselves, season after season.
The SSFSHOP cross sells according to brand, recommending more items from 8Seconds on the PDP below in their You May Also Like recommendation.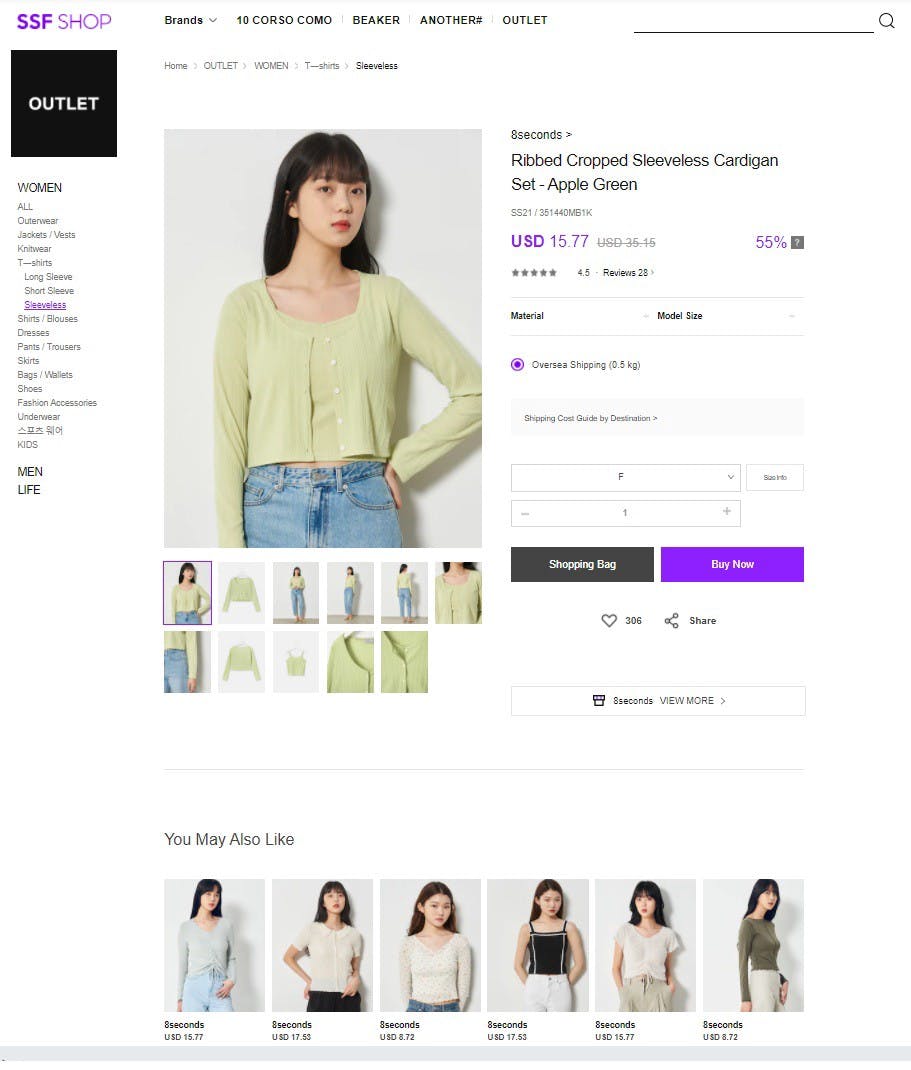 (8) ÅLAND product pages
On their PDP they combine a More by brand recommendation and a Products seen together, one which offers styles related by product attribute but not necessarily by brand.
The ÅLAND brand name comes from a rare fish from Finland. ÅLAND finds compelling brands to sell on their huge website (now at over 700 brands). Products include clothes, shoes, bags, stationary items, and cosmetics. Thriving on diversity, ÅLAND stresses that unique brands attract unique customers, and that their mission is to present a variety of fashion cultures to as many people as possible.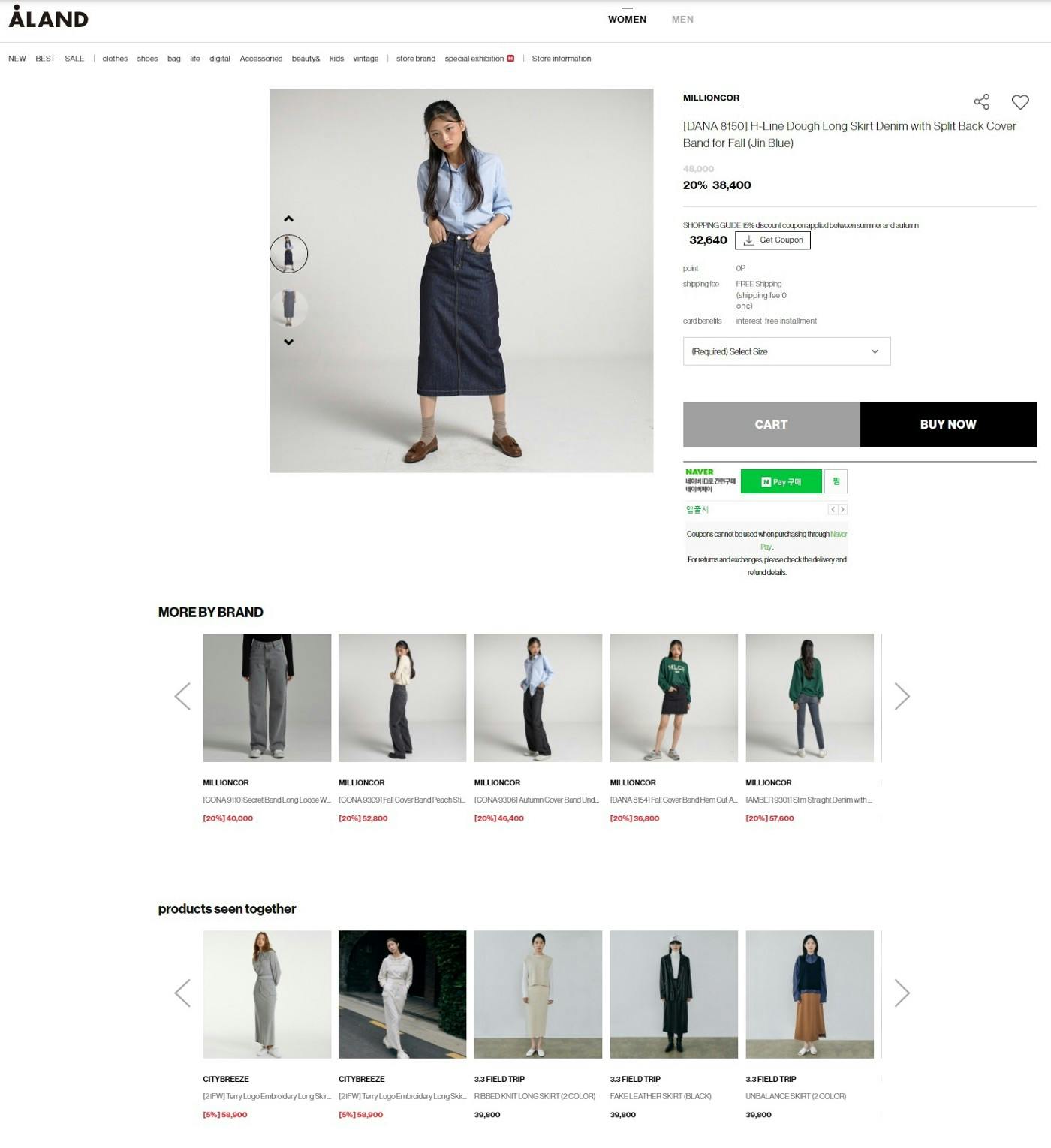 ÅLAND cross-sells two ways on its product page: by brand and by similar attributes.
(9) KOODING product pages
The goal at KOODING is to create a fashion community of apparel, beauty and lifestyle lovers that appreciate each other's unique personalities. The idea is that the separate flavors from Korea and around the world come together in a "melting pot," where members can get a sense of belonging. The attractive mix of products is presented to shoppers from over 100 countries.
The KOODING You may also like recommendation comprises similar styles from multiple brands with a wide range of prices, giving shoppers spending options when they consider adding to cart.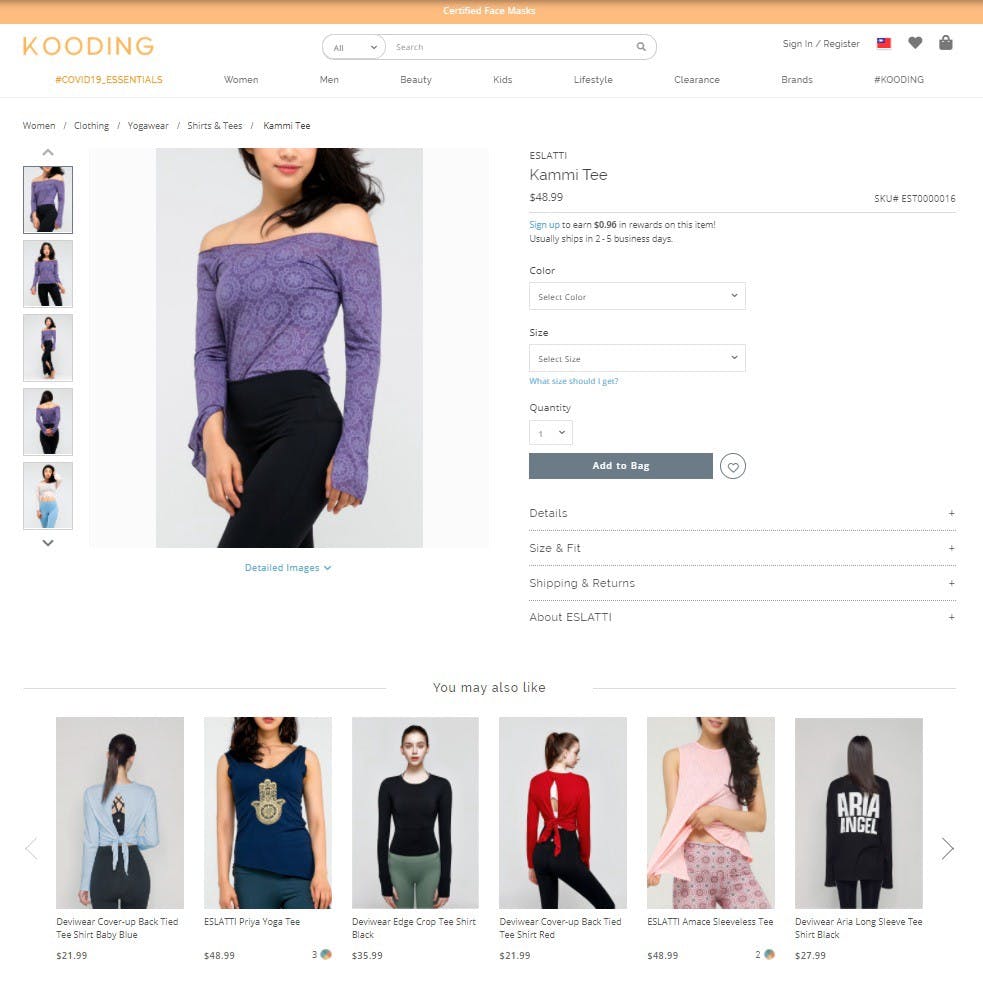 (10) SOMETHIN' SWEET product pages
SOMETHIN' SWEET curates a long list of hot-selling Korean fashion brands on a single platform, encouraging its "sweethearts" (shoppers) to enjoy the convenience of one-stop shopping online when looking for clothing and beauty accessories.
Recommendation-wise SOMETHIN' SWEET uses the Shop The Look component, cross-selling everything the model is wearing below besides the top including boots, earrings, a bag and more.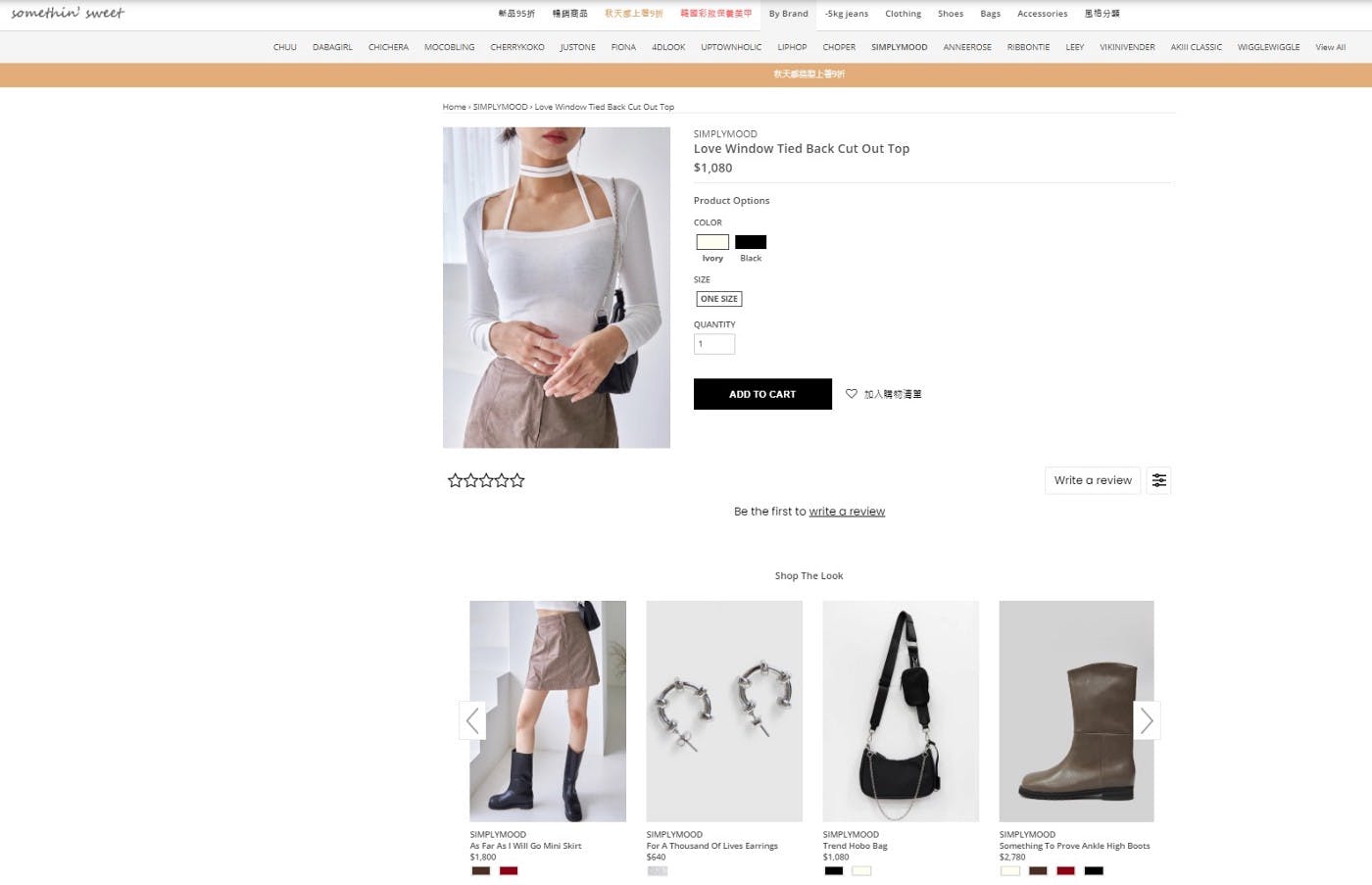 The image of the Love Window Tied Back Cut Out Top is not the end of this customer journey. Shoppers are encouraged on the product pages to Shop The Look.
Final thoughts on Korean ecommerce product pages
Just listing the core components and product details on a Korean Fashion ecommerce website product page is not enough. There's plenty of other relevant information customers want to see on this particular web page and ecommerce product pages that include extra features to enhance the final part of the buying process tend to attract customers and this helps customers decide. One of the most common ones is social proof. Brands that leverage social proof have more success and are able to engage customers with helpful tips from an actual person. The key features of a particular product still matter but an ecommerce site that puts more thought into product photos, product comparison, and customer experience can expect easier customer acquisition, fewer customer complaints and more customer loyalty.