Tagging and Preference Analytics
Rosetta AI automated product tagging for Shu Ueumura. The automation relies on Visual AI and Natural Language Processing trained by inhouse fashion and beauty industry experts. They ensure the AI knows what it's looking at so it can tag what it sees with the most up-to-date terms that shoppers use as they browse.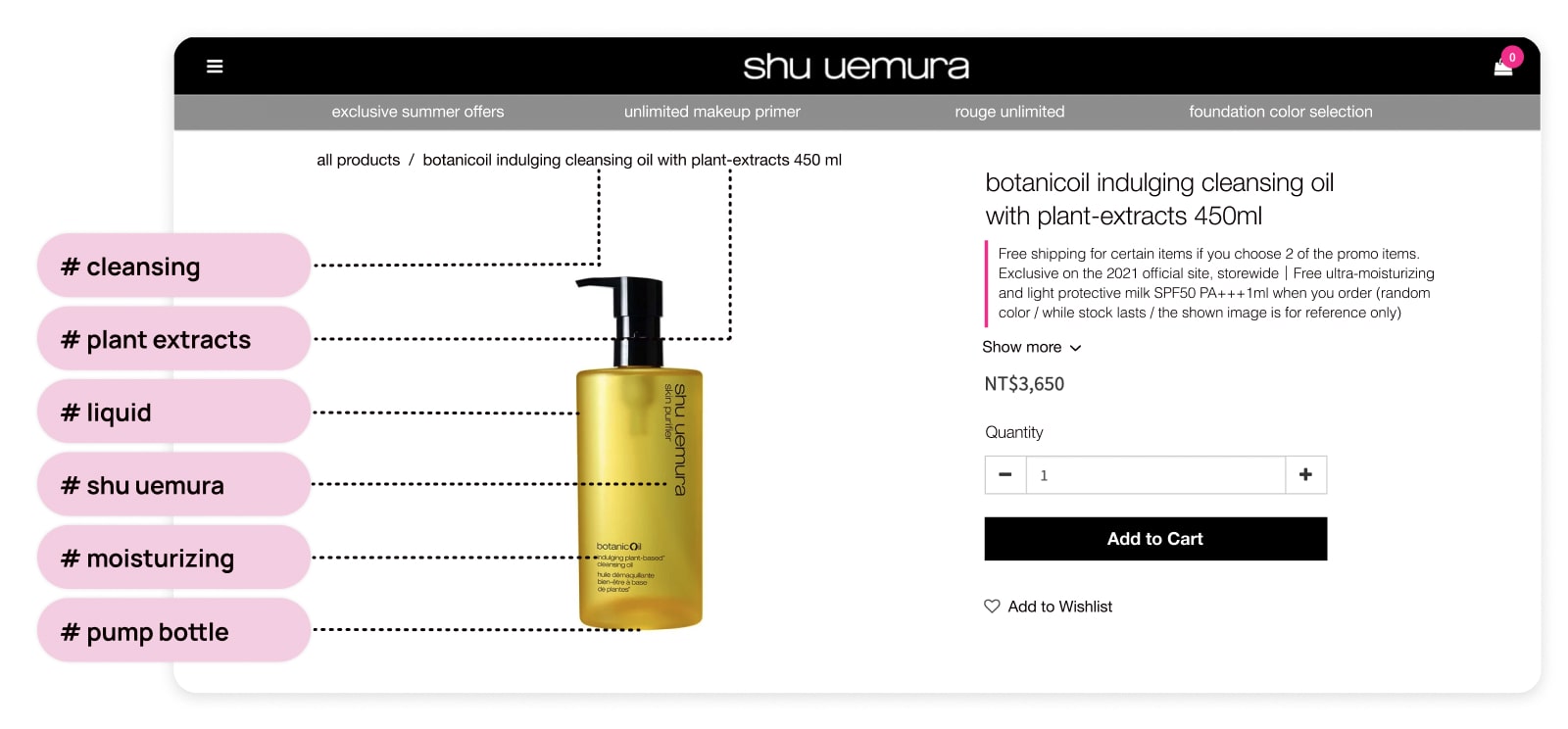 Personalized Product Recommenders
The Rosetta AI service anaylzes consumer preferences and onsite behavior and recommends the products each shopper wants to see. As shoppers visit, the AI analyzes the context of the experience and recommends just the right thing at just the right time.
The visitor may be on the landing page, category page, product detail page or cart page, but the algorithm always ensures that just the right products are presented in just the right way via in-page carousel recommendation boxes. On their product detail page, Shu Uemura uses "Recommended just for you."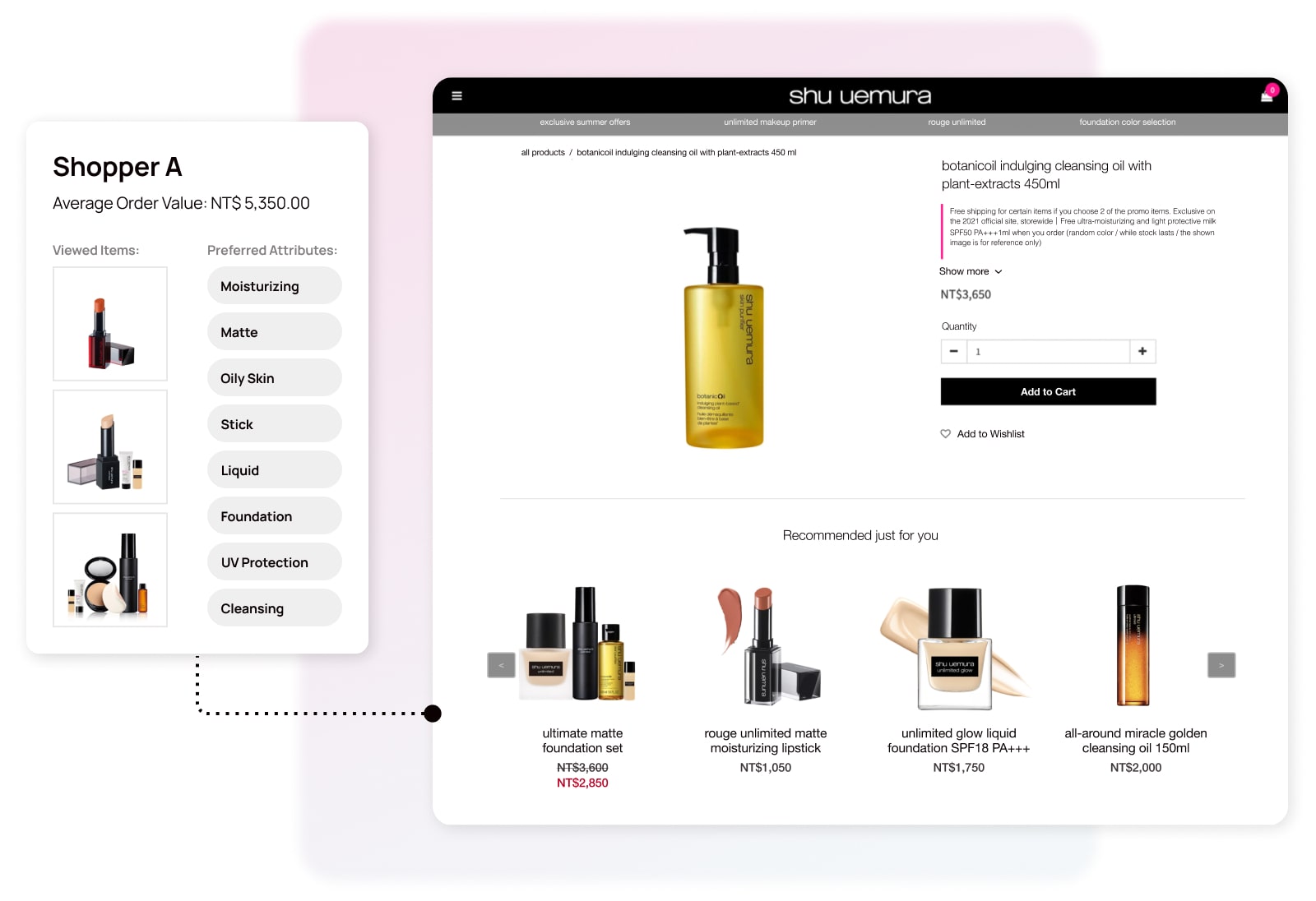 The longer shoppers visit, the more complete their Preference Profiles become and within just few visits, their shopping experience is a unique one.
AI-exit Intent Promotions
Shu Uemura also uses AI-exit Intent Promotions. Their frequent shoppers get targeted more accurately with promotions that get triggered at the optimal time. The Promotion plugin offers two options:
The Promotion Banner shows an image of a campaign that Shu is running, and allows them to set a click-through destination to a page of their choice.
The Coupon Code shows an image of a discount code that they are using for a promotion. The code can be conveniently copied by the shopper.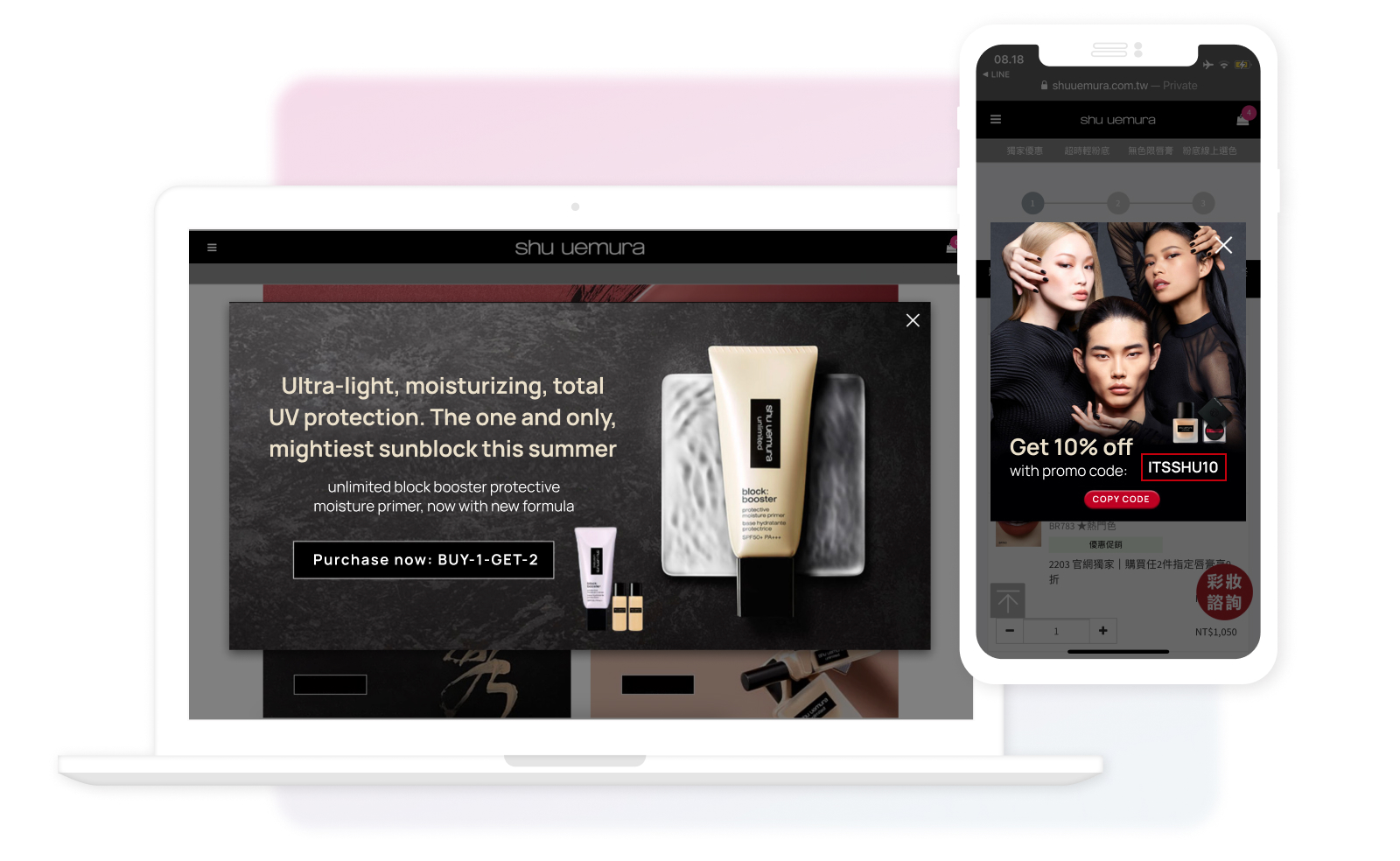 On average, hesitant shoppers make up 10%~20% of all website visitors. However, with the Rosetta AI-Driven trigger, promotion plugins for Shu Uemura are armed with Hesitant Customer Detection. This competitive advantage raised conversion rates for the website by 140%.
More cross sells
The tagging work on the backend enriches individual preference profiles, making recommendations more accurate and driving more cross sells. Whether it's a recommendation box or a promotion, the right offer at the right time makes each experience unique and this matters to shoppers. They click on more products, stay longer and buy more. For Shu Uemura, average order value went up 109%.