In fashion, customer acquisition is hard. Rival brands fight hard to keep the customers they've got, while potential customers may be tempted to buy your stuff once but then move to the next offer.
The 3 customer loyalty hacks used by big brands
Different brands are going to have different approaches to customer loyalty.
The more successful names use first-party data to ascertain what their customers expect in return for their loyalty, and then build the offer into their established but evolving image [and, let's face it, holding companies like LVMH and Kering are building empires by tweaking their brands' unique offers].
Many of the offers fall into one of three basic customer loyalty hacks:
charitable donations
points for perks
paid memberships
Charitable donations
This hack is another example of how great customer loyalty links to CX marketing via an enhancement of your brands' core appeal. Today, all fashion brands are waking up to the value of incorporating and promoting the sustainability and diversity directive, while it's genuinely
in the DNA of many start-ups and smaller labels.
The Body Shop leveraging its customers' values and its own altruistic mission for an alternative take on the win-win principle.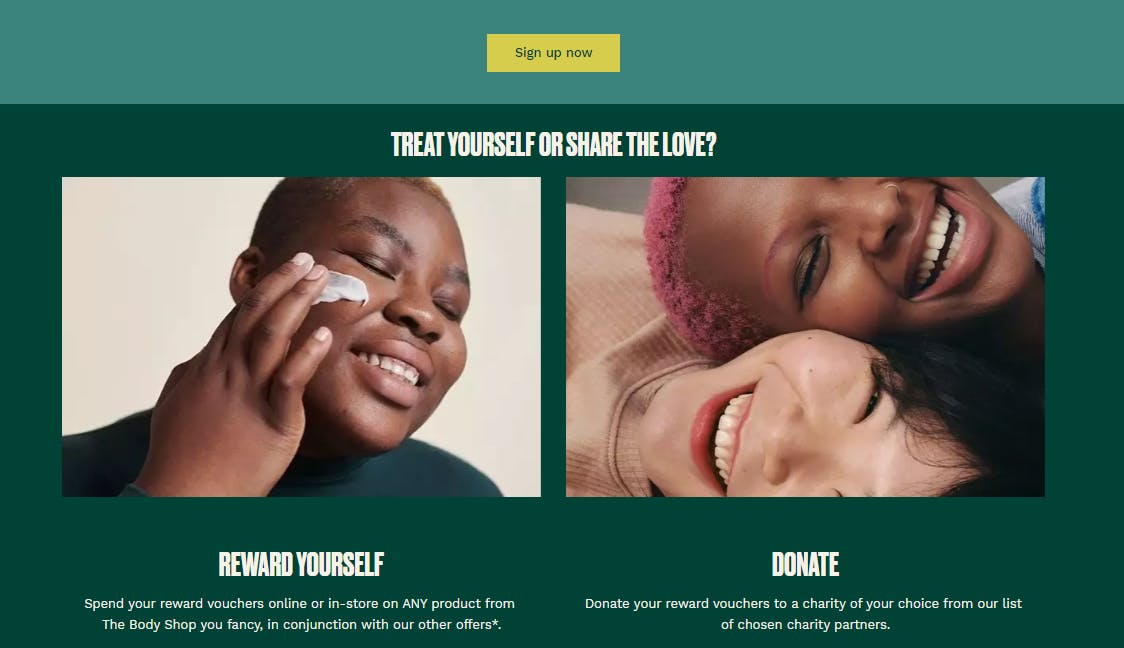 Signing up for the Body Shop Love Your Body Club gives shoppers the choice to "treat yourself or share the love" with a donation.
Points for perks
One of the most common customer loyalty initiatives [but highly differentiated and extremely successful], is rewarding customers with credit every time they buy something.
It's the hook that let's customers know they're loved, and that has already been bated with images and text, as well as interactive features like personal curation options and individualized promotions.
Urban Outfitters offers cash rewards for points, early product access, competitions, and tiered bonuses and offers dependent on how much customers spend.
But in sportswear, cosmetics, and lifestyle, perks encourage expenditure on new products that folks generally have a need for.
The concept is a harder sell in the luxury sector however, where aspirational shoppers might only plan on buying one hot item, and where value for money is not as much a key driver for the rich as exclusivity.
Paid membership
A better 'sell' in the luxury sector, where getting stuff for free might devalue the exclusivity of the brand and where charitable donations might be perceived as an apology for spending, say, 1,000 bucks [and way more] on a bag.
For example… Hermes
Don't expect a list of perk points on the company website. Brands like Hermes and Bulgari are more discreet in rewarding a demographic where one-offs, luxury trips and hot tickets are not unusual rewards.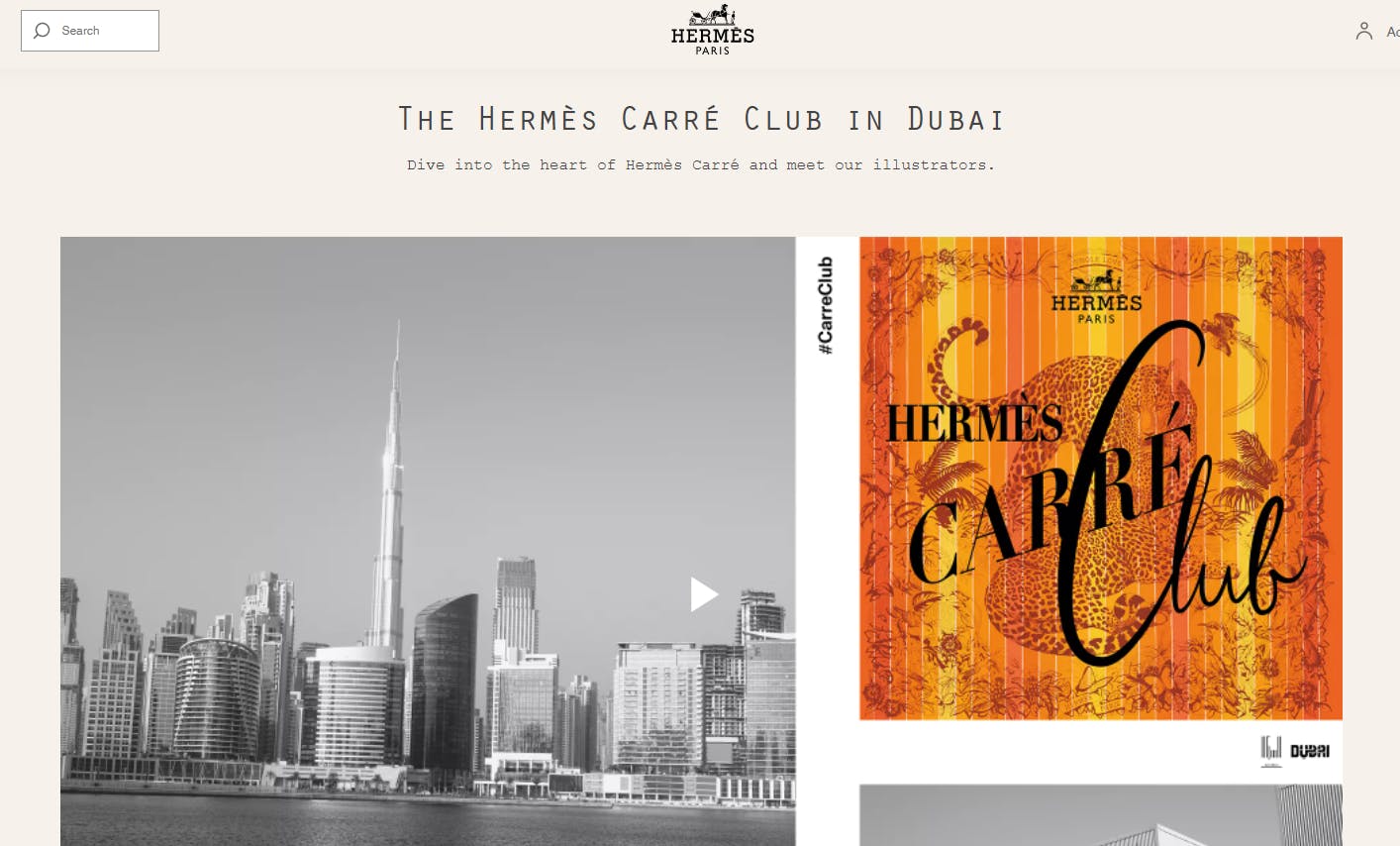 Exclusive membership reinforces the notion – important to frequent premium and luxury customers – that their money is worth something: special access. Regular ecommerce fashion giant Zalando have also plied the paid membership route to give customers priority service and Amazon Prime-like speed of service on frequently bought items.
Customer retention benefits to bank on
Retention — keeping those customers who already love your look and your legacy — is the name of the game because it's cheaper, improves customer experience and builds your brand, especially for fashion ecommerce.
And if your brand has an eye on these fundamental CR benefits then you're ahead of the majority of businesses because while 44% of businesses focus on customer acquisition, only 18% focus on customer retention.
Higher retention means lower CAC
So you're looking for quality engagement at the lowest CAC possible. How do you do it? Brands that know their stuff know their existing customers, and they get to know them better by improving online customer experience, reaping their first-party data to find out what these customers want, and offering it to them via bespoke loyalty and membership programs.
To do it well though, you're going to have to move beyond an approach that defers data analysis or that groups all consumers under one generic umbrella. You want to move to a strategy that prioritizes the true differentiation of your individual customers.
Big branded websites have teams of dedicated engineers and analysts to design apps that figure out what shoppers want as they shop but these days smaller brands are also getting in on the action with 1-to-1 reference analysis website plugins and personalized hesitant customer promotional popups from SaaS providers.
Furthermore, with the kind of money fashion and sports brands are spending on R&D, seasonal and inter-seasonal products, designer tie-ins and production and distribution, cost effective customer acquisition is an absolute must.
Focusing on retention improves CX marketing
The key to getting this right in fashion goes beyond physical products and to the creation and extension of customer experience that – yes – customers are buying into already when they caress that label.
Brands that foster relationships online through outstanding CX and empathetic customer retention programs are the ones with the most loyal customers. We're talking about giving the customers what they want, but we're using first rate CX and retention marketing methods to take this to a level where the customer is individuated [by being offered more of what they want] and rewarded for buying it through rewards via loyalty programs.
It's cost effective, and it's an extension of long-standing customer service principles that take a reverential approach to customer relations.
Customer retention strategies express your brand
So, in fashion, customer retention depends on fine-tuning a strategic approach to customer loyalty that rewards people – ultimately – for spending. But retention marketing in action must also align with a perceived set of values – and indeed a tangible online customer experience. This is the key to your brand's ongoing success as is  tweaking your customer retention strategy to speak to individuals.
Each brand will have different takes and twists on the formula but doing these things will help shine a whole new light on an already great product and improve your cx marketing.
Special customer retention benefits for apparel
Customer retention in fashion is vital. When done right [by getting to the heart of what individual customers want and rewarding them with it] it dutifully preempts your brand's greatest threats:
same sector competition
the industry's fickle nature
the counterfeit boom
fast fashion
Great customer retention speaks to your customers on their terms, in a language they like, about more of what they already want but might be tempted to get elsewhere.
Perceived wisdom is that loyalty has gone out the window in a marketplace where new product turnaround is super swift, leading to myriad customer options that are agitated by click-dependent influencers.
Customer loyalty must be earned
However, brands that cut through the noise know that loyalty never went away, but that it must be earned. Unlike the days when physical product was driven by traditional print and screen marketing [that mythologized logos and product features] millennials now also want to be spoken to in terms that meet their individual needs, and confirm their values. Without earning their attention this way, brand logos and product upgrades matter much less.
Final thoughts on customer loyalty hacks
Customer retention essentially posits existing customers as the gold standard: the more you keep, the more that new customer acquisition becomes sauce. Get it wrong by losing your existing customers, and you'll be letting blood while fighting like a dog for every new one. The data won't lie. Fashion brands know that new customers don't come easy. That's why they spend more time keeping their existing ones, and putting plenty of thought into customer loyalty hacks that give VIP customers more of the product [and the experience] that they already love.